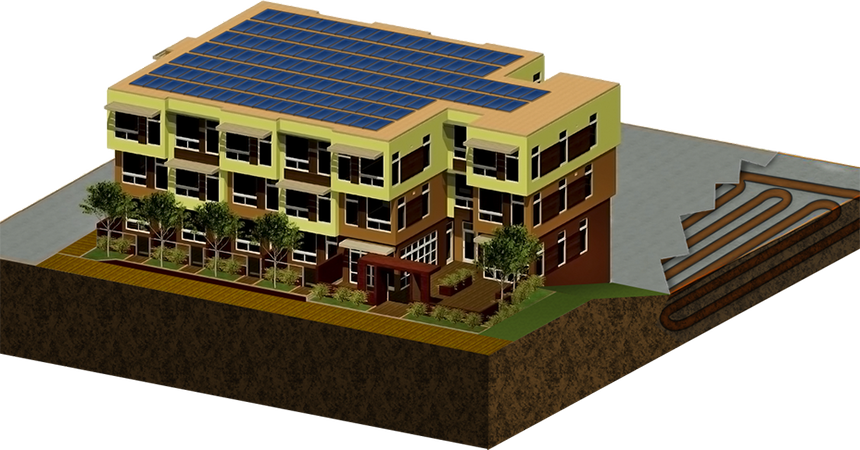 Bill Reed refers to himself as a "watt cutter." As the designer behind Burnside Boardwalk, an upcoming carbon-neutral affordable housing project in Portland, Reed is constantly looking to develop better, more community oriented and energy-efficient environments.
"My whole objective is to cut as many watts as I can," said Reed, who has been working in the architecture and construction field for approximately 40 years. "If it uses watts, we have got to figure out how to stop using them."
Burnside Boardwalk broke ground in September 2020 and will feature advanced, energy-efficient design techniques. The building will include a geothermal heat pump, foil face foam insulation, energy recovery ventilators, heat pump hot water heating and motion detector lighting, among other energy-saving features.
Working together with Energy Trust of Oregon, Reed is expecting to be able to cut the building's predicted energy use intensity (pEUI) score down to about one-third of the EUI of a normal building.
"Energy Trust was very helpful," Reed said. "I understand more about the EUI and where I had to reduce the watts. They helped me refine what I was already doing."
Energy-efficient design isn't the only guiding principle of Reed's process—he also stresses the need for creating community. To achieve this, Burnside Boardwalk will feature wide hallways that invite social interaction, as well as an emphasis on a small group of residents per floor. Its units are estimated to rent for $855 a month, including utilities. The average rent for a studio apartment in Portland without utilities is $1,156, according to Multifamily NW's fall 2020 "Apartment Report." This difference in rent costs is largely due to the building's cost-effective durable materials.
Reed is looking forward to the project generating more interest in energy efficiency among a wider audience. "Energy efficiency should be more publicized and looked at. There are a lot of misconceptions out there about what costs money and what doesn't cost money."
See how Energy Trust incentives and resources can support your new building or renovation project.