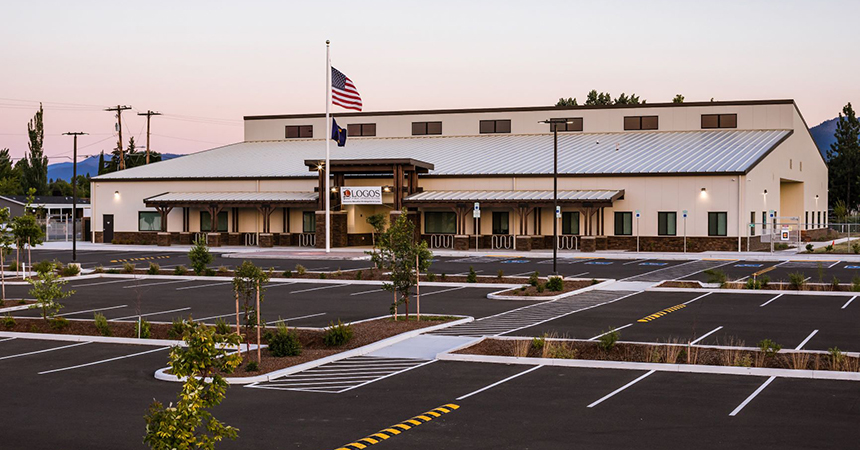 The new building received $35,440 in Energy Trust cash incentives and is projected to save $17,580 annually on energy costs.
Logos Public Charter School brings a personalized learning model to Medford, Oregon, combining in-person classes, online education and reading assignments, while also working with community partners.
The school recently moved into a new energy-efficient facility. It received $35,440 in Energy Trust of Oregon cash incentives and is projected to save $17,580 annually on energy costs. Because Logos offers a unique academic experience, it was important to have very specific features built into the new school to maximize the needs of its K–12 students.
Energy-efficient features at the school include a variable refrigerant flow heating and cooling system that allows temperature adjustments for each classroom. The facility also uses indoor and outdoor LED lighting, water-saving solutions, and a dedicated ductless mini-split cooling unit for its IT room.
"Since our school is a personalized learning model, our teachers meet individually with each student at least once a week," said Sheryl Zimmerer, executive director, Logos Public Charter School. "We were able to put in 11 meeting spaces that have doors with windows, and they're quiet, so if a student is doing some assessment testing, it's not noisy in the other space."
The community, which Logos is heavily involved with, has taken notice. "Everyone who has come into the building, from parents to community members, board members and visitors, has been not only appreciative, but also impressed," said Christopher Van Ness, director of science and inquiry, Logos Public Charter School.
Zimmerer is very enthusiastic about the project and can't say enough about the upgrade. "We always tell people that you almost have to see the old building to appreciate how wonderful the new one is," she said. "I'm thankful for our teachers, our staff and our students, and they're so happy."
Read our Logos Public Charter School case study to learn more about the new school and how students and staff will benefit from the building for years to come. And if you're planning a new building or major renovation to benefit your local community, be sure to check out our incentives and resources or call us at 1.877.467.0930.