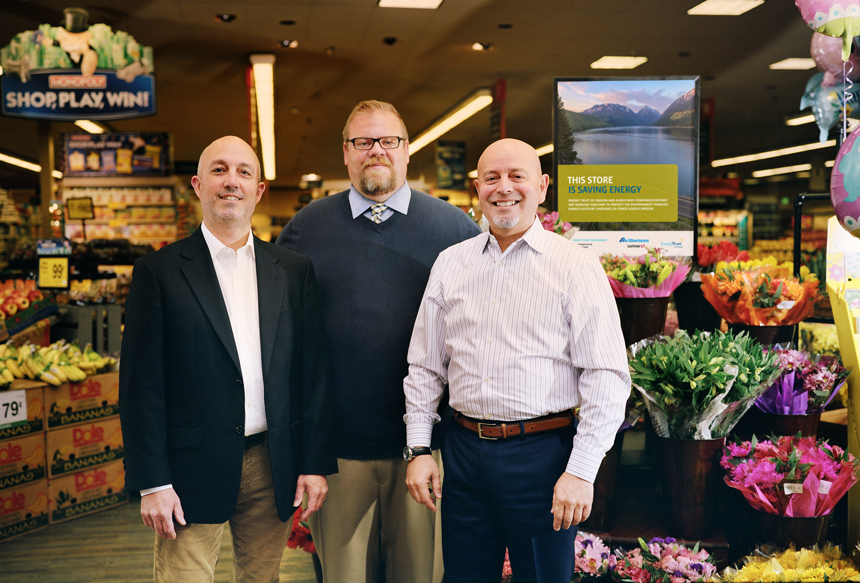 Energy Trust of Oregon account manager, Alex Inman, connected with colleagues John Peterson, VP of Innovation with Ecology Action, and Victor Muñoz, corporate energy manager with Albertsons Companies, at the Woodstock Safeway in Portland.
Albertsons Companies, which includes Albertsons and Safeway stores, the largest supermarket chain in Oregon, sets itself apart by offering high-quality products and services while focusing on environmentally responsible operations. In 2018, they continued their environmental stewardship efforts by making energy-efficient equipment upgrades in nearly half of their Oregon stores.
Albertsons Companies worked with Ecology Action, an energy efficiency consultancy, to help identify energy-saving opportunities and available incentives. Across their retail locations, they pursued refrigeration system upgrades to reduce energy use and maintenance costs. Albertsons and Safeway stores utilized available incentives from Energy Trust of Oregon for the improvements.
Energy Trust assistance was critical to helping Albertsons and Safeway stores reduce the upfront project costs of refrigeration upgrades at 59 stores. Upgrades included new electronically commutated motors for refrigerated walk-in units and reach-in cases, as well as anti-sweat heater controls—controls that reduce energy consumption while allowing heaters to keep refrigerated glass doors clear so customers can easily find their items in the frozen food sections. "Energy Trust incentives and services were key to project economics and implementation," said Victor Muñoz, corporate energy manager with Albertsons Companies.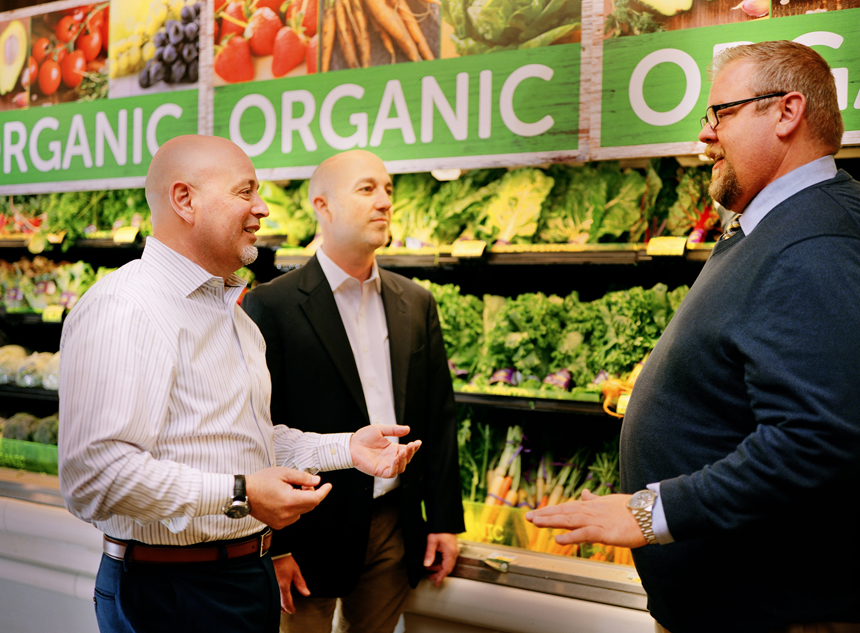 Albertsons Companies corporate energy manager, Victor Muñoz, discusses refrigeration improvements with Energy Trust account manager, Alex Inman, and Ecology Action VP of Innovation, John Peterson, in the produce section of the Woodstock Safeway in Portland.
The available incentives allowed Albertsons and Safeway stores to invest in additional efficiency upgrades, improving equipment consistency across the organization and providing greater energy savings.
The upgrades will save Albertsons and Safeway stores an estimated 11.2 million kWh annually. Next, Albertsons and Safeway stores plan to upgrade lighting in up to 92 Oregon stores, tapping into even more Energy Trust incentives. Victor Muñoz said, "We are looking forward to partnering with Energy Trust to develop future energy savings projects and continue making a positive impact on our local environment and the communities we serve."
To find out more about grocery incentives, visit https://www.energytrust.org/BringUsIn.