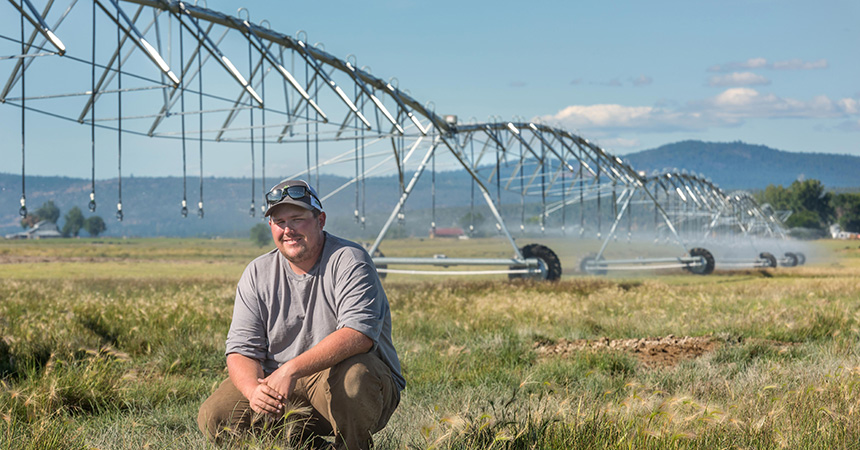 Today's family farms are blending modern technologies with traditional farming techniques to improve efficiency and reduce operating costs. Chad Criss, his wife and brother are doing exactly that and taking farming to a new level at their 2,000-acre spread near the Southern Oregon town of Bonanza. A recent investment in a smaller energy-efficient pump and a new irrigation system is saving energy, reducing water use and reducing labor hours needed to irrigate their alfalfa and grain fields.
The farm's previous irrigation system relied on traditional wheel lines. According to Criss, they have one field with seven to eight wheel lines, which needed to be moved both morning and night. It took nine days to cross and irrigate the entire field. Labor involved was becoming a burden, so the Criss family looked around for a new solution.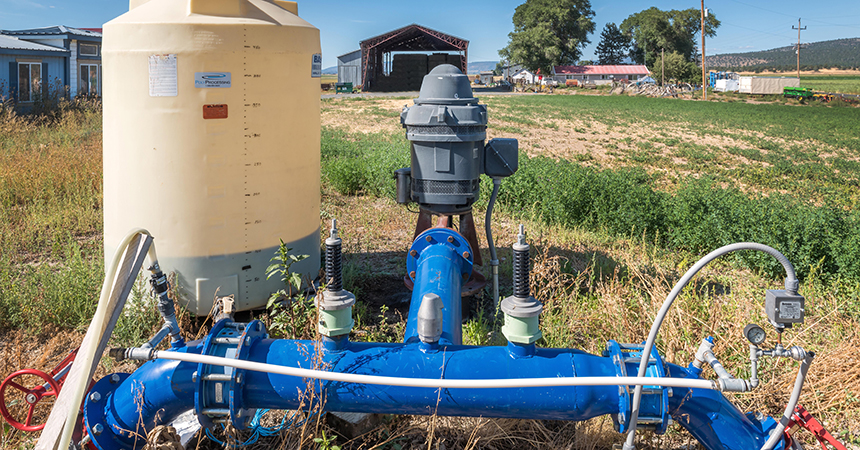 After researching his options, Criss decided on a new pivot irrigation system. Advised that the system was eligible for Energy Trust of Oregon incentives, he contacted Energy Trust for more information. That simple phone call turned into a bigger project that did more than he imagined.
"In addition to the pivot system, we removed our 70-horsepower pump and installed a 50-horsepower pump with a variable frequency drive (VFD)," explained Criss.
"The pivot allows us to irrigate more acres with less water. Now, I can use two to three-wheel lines and the pivot together and finish the watering in less than three days. And the new VFD helps us run the pumps more efficiently to reduce energy costs."
The Criss farm received $21,000 in cash incentives towards the overall cost of the irrigation system upgrades and expects to save an estimated $5,900 in energy costs and 84,000 kilowatt hours of electricity annually. Plus, the new system uses water more efficiently and is estimated to save the farm nearly 23,739,000 gallons of water annually.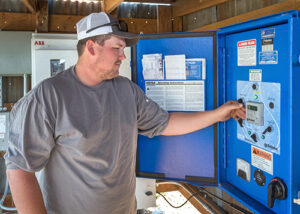 "By investing in a larger project, we received enough in incentives to cover the additional cost of the pump and VFD, explained Criss. "That kind of savings makes an impact on a family business like ours, and it helped us get more for our money."
To learn more about energy-efficient upgrades available for your business, visit www.energytrust.org/irrigation.