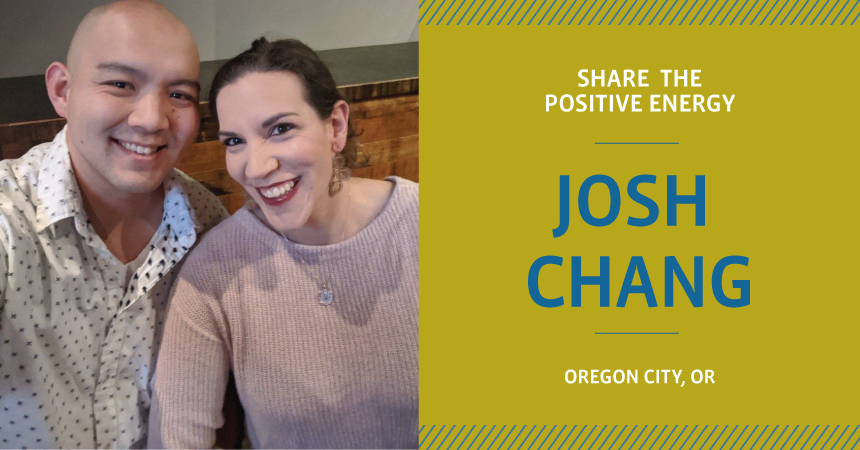 For Josh Chang and his wife Heidi, solar power seemed like a nice, "someday" dream for their Oregon City home. Then they learned about Solar Within Reach increased incentives from Energy Trust of Oregon, which lowered up-front costs and made their solar dream a reality sooner rather than later. Now they're saving every month on their electric bill.
"We had been thinking about it for about five years, but cost was a concern," said Josh. "Solar Within Reach definitely made it possible to move forward sooner."
Josh and Heidi both served in the Army, and now they are attending college—he's studying nursing and she's in a seminary program—while Josh also serves in the Oregon National Guard. Their home bustles with their two daughters, ages 7 and 4, and two dogs. When not studying and taking care of their house, they head out on family hikes.
The top motivator for this busy young family? Saving on monthly energy costs.
"Solar meets the majority of our energy needs. Now we're paying only about $14 a month for electricity," said Josh. "What we pay in winter isn't much more than we pay the rest of the year."
Josh and Heidi worked with an Energy Trust solar trade ally who explained how Solar Within Reach could make their project affordable. This income-qualified offer provides incentives that are much higher than Energy Trust's standard solar incentives. They also received a federal tax credit that further reduced costs.
"We're not nearly as worried about electricity costs. It's also a great investment, improving the value of our home," he said.
In addition to the financial advantage, Josh feels good about the decision to move forward with solar for other reasons, too. "We know we're doing the right thing. Solar is better for the environment and less taxing on the grid. There's not a lot of drawbacks," he said.
Now that they have solar installed, the future dream is to add a battery storage backup system that stores extra solar power to use during a power outage when they really need it.
Meanwhile, they have fielded questions from friends and neighbors who are curious about going solar themselves.
"The paperwork is incredibly easy. It's very straight forward, all black and white. We knew exactly what was going to happen. We recommend people look into it," Josh said.
Wondering about solar for your home? Get a free, no-risk analysis and bid and learn if you qualify for Solar Within Reach increased incentives.