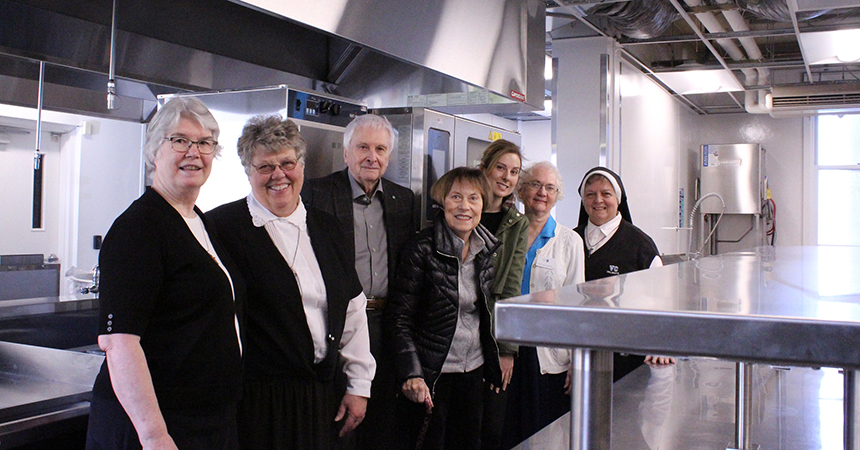 The Sisters of St. Mary of Oregon (SSMO) Motherhouse, originally constructed in 1930, serves as the Sisters' headquarters located on the congregation's 43-acre campus in Beaverton. Today, the historic Motherhouse accommodates nearly 60 Sisters who provide education and healthcare on the SSMO campus and beyond. The Motherhouse features a chapel, private rooms for the Sisters and a dining room and kitchen area where over 150 meals are prepared and served daily. Although the 90-year-old kitchen was renovated in the 1950s, outdated equipment and inefficient appliances were no longer able to keep up with the workload of the kitchen staff.
"There have been some upgrades to the kitchen equipment over the years; however, a significant amount of the work was being performed using inefficient appliances, which was impacting the quality of the food served," said Sr. Adele Marie Altenhofen, president of SSMO Ministries Corporation. The Sisters experienced frequent delays in prepping and serving food due to old appliances and it became clear the Sisters needed to take action in the kitchen.
Having worked with Energy Trust of Oregon previously, the Sisters reached out to get more information on incentives for foodservice equipment and to understand which equipment was eligible. They learned that by installing energy-efficient appliances they would receive $18,400 in cash incentives from Energy Trust to help offset upfront project costs, making it an easy decision to upgrade.
With a generous donation from their benefactors, the Sisters were able to install an energy-efficient gas fryer, gas convention oven, a new controlled kitchen ventilation system and two high-efficiency dishwashers. The new dishwashers replaced a scullery room used for hand washing dishes freeing up time for the kitchen staff to focus on preparing the next meal. These energy-saving appliances will not only help the Sisters keep up with mealtimes, but will also save more than $9,200 in estimated annual energy cost.
"Any time that the Sisters can find ways to be more energy efficient, it is a WIN – both in terms of cost savings and in stewarding the earth," said Sr. Altenhofen. "Saving money in this regard helps us to further our mission to provide care for the community through faith and action."
For more information about upgrading to energy-efficient foodservice equipment at your multifamily property, call 1.877.510.2130 or email multifamily@energytrust.org.