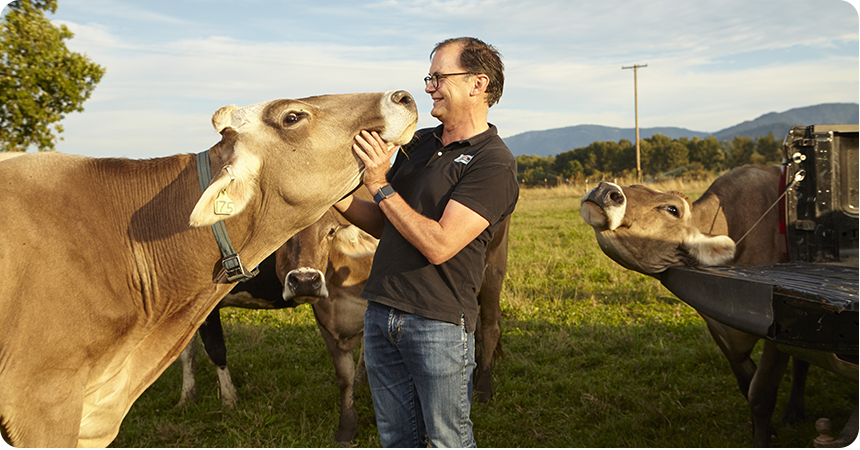 Rogue Creamery knows a thing or two about quality cheese. Located in Southern Oregon's Rogue River Valley, the artisan cheese company designed its dairy farm specifically to keep cows in good spirits. The result: top-quality milk that's perfectly balanced for cheese making. Rogue owner David Gremmels also believes in sustainability, and worked with Energy Trust to bring unique energy-saving solutions to the project.
The centerpiece of Rogue's efficiency effort is an innovative LED lighting system that automatically dims or brightens to create ideal light levels for the dairy barn. Energy Trust incentives helped offset the upfront costs of the LED setup. According to Gremmels, the system not only conserves energy, but also creates a better living environment for the cows and a better working environment for his staff.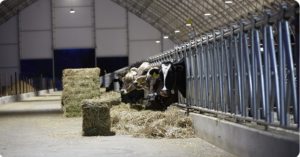 "We measure our energy production and consumption monthly. We saw seasonal improvements in use and production. The lighting provided further comfort and safety for both cows and team members working during evening and early morning hours," said Gremmels.
Rogue's push for efficiency continues at the milking station, which uses solar panels to offset energy consumption. To tap into the power of the sun, Rogue worked with Energy Trust to receive guidance and cash incentives. A second solar-powered milking station is in the works.
It's quite a journey from dairy farm to cheese aisle. For Rogue Creamery, sustainability is a key part of the process. From energy-efficient equipment to a pleasant environment for cows to call home, it all comes together in a tightly run operation that produces some of the region's most enjoyed cheeses.