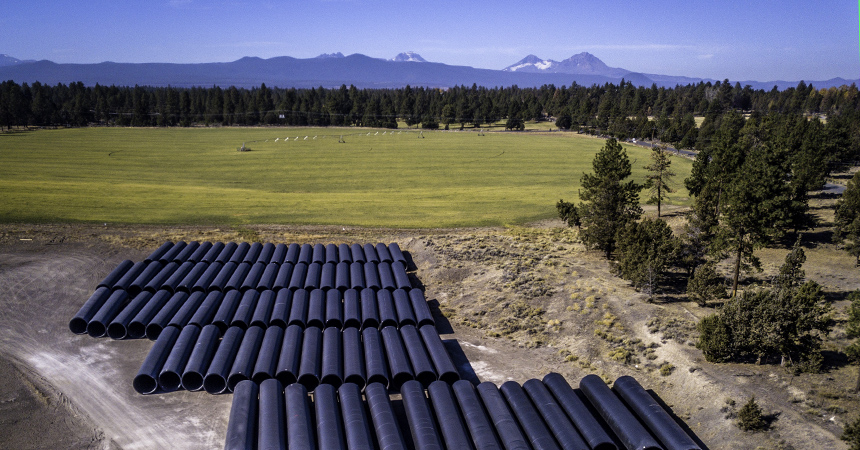 Oregon is highlighted in the new report, Returning Champions: State Clean Energy Leadership Since 2015, by Clean Energy States Alliance (CESA), a national, nonprofit coalition of state agencies and other public organizations working together to advance clean energy. The report provides a comprehensive look at how states are driving clean energy solutions and suggests how to further encourage growth. Oregon is one of 19 states recognized as a model for clean energy innovation and is highlighted in one of the 21 case studies included in the report.
When selecting Oregon as a clean energy leader, CESA cited Energy Trust's role in developing and supporting Oregon's Irrigation Modernization Program. The program is a collaborative partnership between Farmers Conservation Alliance and Energy Trust to help Oregon irrigation districts modernize their aging infrastructure and add small-scale hydropower generation systems. Irrigation modernization helps make large, complex projects feasible by pairing funding from federal agencies with Energy Trust incentives and other funding sources. This model demonstrates that renewable hydropower is not only achievable but economically practical for rural irrigators.
CESA Executive Director Warren Leon, the report's lead author, stated that "it is important to recognize the achievements of Oregon's clean energy programs and those of other states so that public support for these programs continues and additional progress is made."
Thanks to this increased awareness of potential benefits, irrigation modernization continues to experience strong support. Recently, an additional $35 million was set aside in a federal agricultural appropriations bill to support irrigation modernization efforts in Oregon. This brings the total federal funding commitment for Oregon's irrigation modernization efforts to $110 million.
Also representing the Pacific Northwest, Washington state was recognized for its grid modernization program, which provides grants to electric utilities for projects that advance grid modernization approaches like energy storage and resiliency. Learnings from projects like these can help utilities respond to aging infrastructure, adapt to increased renewable energy generation, and serve a growing and changing population of energy users.