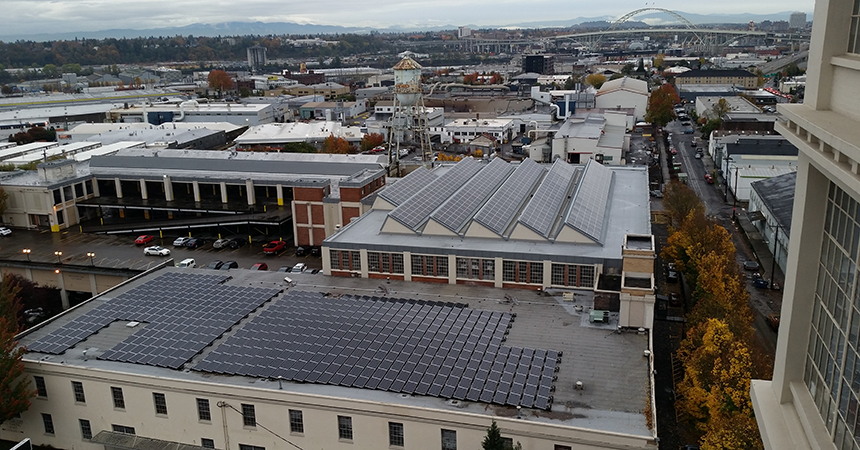 Photos courtesy of Imagine Energy
For nearly a decade, the facilities team at the Montgomery Park office campus considered how renewable power could be incorporated into their energy plan. An impressive drive to improve the energy efficiency of the campus now includes a 1-megawatt solar installation.
Totaling 3,000 solar panels in size, the one-megawatt system generates electricity atop the 850,540-square-foot Montgomery Park building, as well as two parking structures and a warehouse facility. Embedded with advanced technology, the panels transmit in real time how much power they produce and signal if any are offline. If one panel becomes shaded, a decrease in performance is limited to that panel only, unlike other systems in which the malfunction can affect the production of the rest of the string.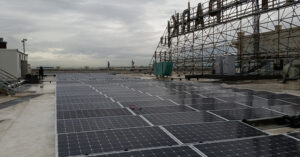 Solar canopies on two of the buildings were online first and within months were already generating enough power to offset 100 percent of these buildings' energy consumption. Tim Hendricks, facilities director, said, "In fact, we've been able to bank extra kWh for winter months when the system isn't as productive." The installation located on historic Montgomery Park is estimated to produce 10 percent of the power needed for that building alone.
Montgomery Park's energy future is brighter than ever with the completion of the solar project. In combination with upgrades to lighting and building systems, it gets Hendricks one step closer to his ambitious goal of achieving an ENERGY STAR® score of 100 by the building's 100th anniversary in 2020.