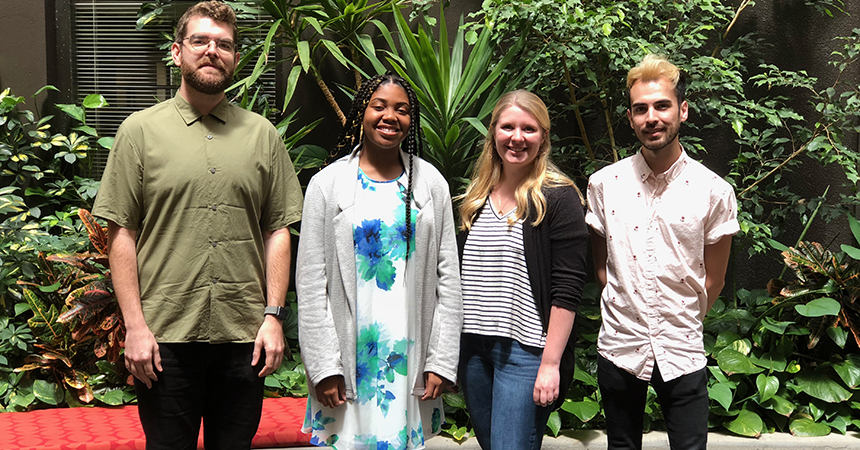 From left to right: Jon Pauly, Faith Rogers, Mariah Wills and Joe Hernandez. Not pictured: Serenity Rodin
Five interns recently joined Energy Trust to expand their professional experience as they embark on their careers. Hailing from Portland State University, Oregon Institute of Technology (Oregon Tech), University of Portland and De La Salle High School in Portland, these new professionals bring talent in engineering, marketing, sociology and administration to Energy Trust programs and support teams.
Joe Hernandez joined Energy Trust's Solar team recently as an engineering intern. Joe recently completed his degree in mechanical engineering at Portland State University and now wants to broaden his skills and knowledge in an industry new to him. "I'm an advocate and believer in renewable energy. It feels very rewarding to be part of a great organization and feel like I'm making a difference each day I come to work," said Joe.
Of all his internship experiences so far at Energy Trust, one highlight for Joe was shadowing one of Energy Trust's solar verifiers on a few installations: "It was a great opportunity to see projects I worked on in person, see what the components and wiring actually look like, and what the verifier is looking for and reports during site visits."
As marketing intern, Jon Pauly splits his time between Energy Trust's residential, commercial and industrial sectors. Jon is a fellow Portland State University student, pursuing a dual degree in advertising and marketing management.
"As a lifelong Portlander, I never realized the impact Energy Trust's work has had on my life until I started looking into our past projects," said Jon. Having previously worked at New Seasons, Jon is proud Energy Trust helped the local market reach its energy efficiency goals. "Our organization reminds me that you don't always need to be onstage to put together a great production, and I feel lucky to be getting my first professional experience in an environment full of passion and measurable progress."
This May, Serenity Rodin graduated from University of Portland with a degree in sociology, but has worked as Energy Trust's administrative intern since last summer. "It's been really great just getting to chat with and bond with my coworkers. Everyone is so kind and has unique experiences that I love learning about," said Serenity.
Serenity came to Energy Trust looking to gain administrative and human resources experience, while also building her network "of awesome people." As she weighs a career path working with nonprofits or in another field that benefits the community, Serenity said Energy Trust's mission was well aligned with her future goals.
During the school year, Faith Rogers is an intern at Energy Trust through our De La Salle High School internship program. We're pleased to have her join us this summer too, as she serves as our legal and administrative clerk. Faith is about to enter her senior year of high school at De La Salle, where she is a forward on the basketball team. In her free time, she enjoys watching the Houston Rockets and is a voracious reader. After she graduates college, Faith hopes to pursue a career in marketing.
Finally, our newest intern is Mariah Wills, who received her bachelor's degree in renewable energy engineering from Oregon Tech. For her senior project, Mariah tested the feasibility of West Linn's city parks and community centers to go net zero using efficiency measures and localized solar. Her project culminated in a presentation of findings to the West Linn City Council, which received the results with enthusiasm.
Now that she's completed her degree, Mariah is ready to get hands-on experience. "I'm a newly minted engineer, so I'm excited about anything that takes me out of the realm of theoretical and academic engineering and into what is actually happening right now," said Mariah. "I feel like working at the Energy Trust allows you to see from a higher perspective how and why the world of energy efficiency works."
Mariah will apply her energy efficiency training as she contributes to Energy Trust's industrial and agricultural sector: "As someone just starting out in this field, having this knowledge and knowing how to use it can give me an advantage early on in my career."
Please join us in welcoming these terrific interns. We're glad to have them aboard.