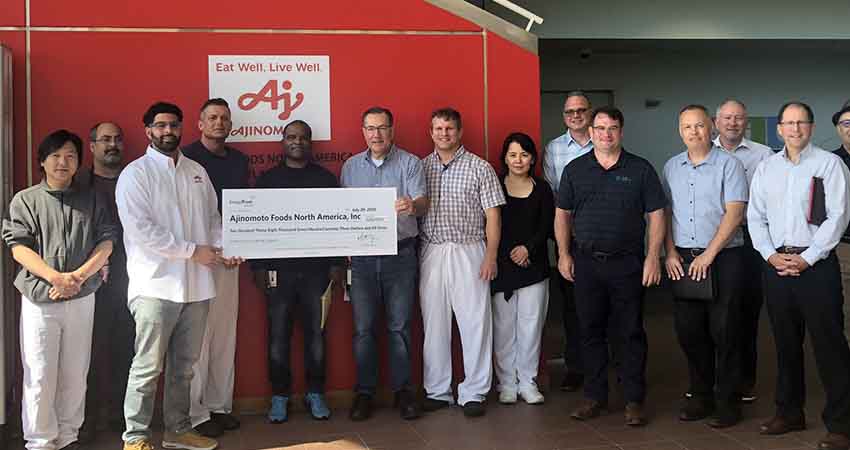 Ajinomoto Foods North America, Inc., in Portland, which produces Asian frozen foods ranging from fried rice to pot stickers, converted all its lighting to energy-efficient LEDs—a big undertaking that is expected to slash the facility's annual energy use by an estimated 1 million kilowatt hours.
"This project is a huge win for us," said Khaled Abdel-Rahim, plant project engineer. "It contributes to the Ajinomoto Group's Shared Value to reduce our impact on the environment and reduce our energy use per pound of product. Since its founding, the Ajinomoto Group has consistently engaged in initiatives to resolve social issues through its business. Through shared value with society and local communities, projects such as this improve economic value, thus leading to growth."
In addition to delivering energy savings, the LEDs provide brighter light for the plant's production areas, improving plant safety by reducing the risk of slips, trips and falls. LEDs also reduce maintenance and replacement costs. They're so long-lasting, they reduce the need to change lamps, and they're more durable, which is a plus in food-service areas that require regular wash downs. "Taking into account both energy and maintenance savings, we expect the project to pay for itself in just over three years," said Khaled.
The lighting upgrade involved installing more than 1,200 LED fixtures, including 300 high-bay fixtures, along with lighting controls, such as occupancy sensors and dimmers. "It was a complex, year-long installation that required considerable logistical coordination," said Khaled. "Our production continued to run 24/7 throughout the lighting upgrade. We're proud of this accomplishment and appreciate everyone who contributed to its success."
Ajinomoto Foods received $238,800 in Energy Trust of Oregon cash incentives toward the total project cost, which came in at $687,500. Energy Trust trade ally North Coast Electric supplied the lighting equipment and managed the on-site contractor Ajinomoto Foods selected for installation. "It was great having North Coast on board," said Khaled. "They knew what lights to select so we'd have the right light in the right place, and they helped ensure the project was completed on time."
The lighting upgrade is the latest of dozens of energy-efficiency projects Ajinomoto Foods has completed over the years. Since 2007, they've worked with Energy Trust to steadily make improvements on refrigeration; dust collection; heating and cooling; compressed air; and other systems. Including this latest lighting project, they've reduced annual energy use by almost 4.7 million kilowatt hours.
Energy Trust and Portland General Electric, Ajinomoto Food's electric utility, applaud the company's hard work and dedication to energy-efficiency. We appreciate their efforts to make energy savings a top priority and for all the work they're doing to help Oregon reach a clean energy future.
Learn more about energy-efficient lighting upgrades available for your facility.