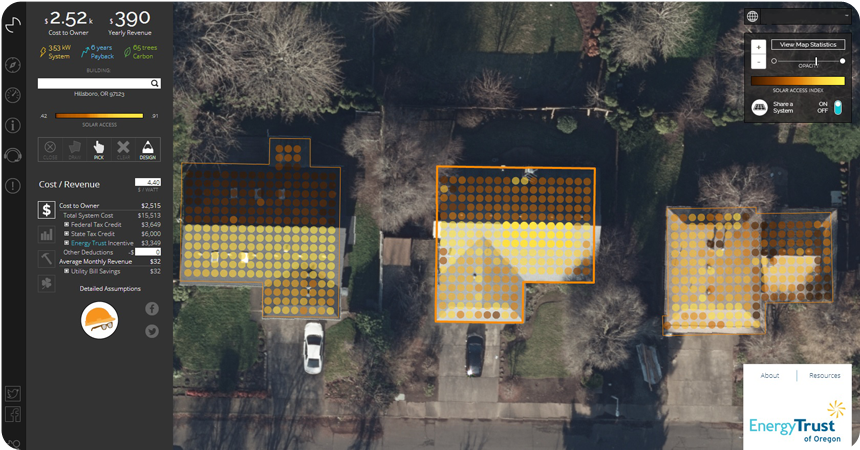 One of the biggest barriers to installing solar electric systems is that property owners don't have a good way to estimate how much energy they could generate, or how much it would cost. Now Energy Trust of Oregon is providing home and business owners in select Washington County communities a free, high-tech way to find out.
Along with Boston and Washington D.C., these Oregon cities are the first in the country to have access to the cutting-edge Mapdwell Solar System tool. Mapdwell mapped out the solar potential of 155,247 buildings in Beaverton, Durham, Hillsboro, King City and Tigard.
Residential and commercial property owners in the area can search the free Mapdwell Solar System application to estimate the cost to install a system. Mapdwell Solar System also estimates potential utility bill savings, the number of solar panels needed, Energy Trust cash incentives, state and federal tax credits and the time it takes to "break even" on the investment. The tool is highly interactive so users can explore different scenarios for system size and financing options. After learning about the solar potential at their property, users can request free, no-obligation estimates from local Energy Trust trade ally contractors with one click.
Mapdwell's analysis found that Washington County has the potential to produce over 3,575,000 megawatt hours of electricity each year from rooftop solar—enough to power all single-family homes in Washington County and Portland combined.
Mapdwell Solar System uses high-resolution topographical data, called LiDAR, to create a three-dimensional model of all the buildings in a community. Site-specific weather data and shading from nearby structures and trees is then incorporated to precisely calculate and map the solar energy potential of every point on a rooftop for every hour of the year. LiDAR—Light Detection and Ranging—is a remote sensing method used to gather three-dimensional data about the surface of the Earth.
If Mapdwell Solar System proves popular and effective, Energy Trust could expand the service to other communities across Oregon.