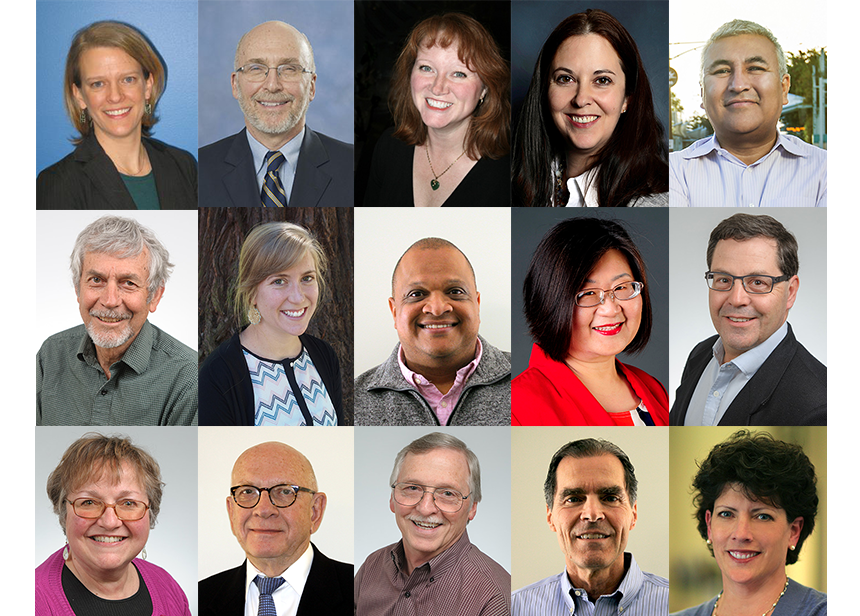 At its February meeting, Energy Trust of Oregon's board of directors re-elected all of its officers for 2019. Roger Hamilton was elected president, Alan Meyer was elected vice president, Mark Kendall was elected secretary and Susan Brodahl was elected treasurer. Each of these board members previously held their respective office on the board in 2018.
Board president Roger Hamilton is a retired consultant for Western Grid Group. Hamilton has a long history of public service, previously serving as a Klamath County commissioner, a member of the Oregon State Parks Commission and an Oregon Public Utility Commissioner. Hamilton currently resides in Eugene.
Now retired, board vice president Alan Meyer previously served as director of energy management for Weyerhaeuser Company. Meyer joined Energy Trust's board in 2005, bringing expertise in energy efficiency for industrial operations. Prior to his retirement, Meyer held roles at PacifiCorp and Willamette Industries. Meyer lives in Salem.
Fellow Salem resident Mark Kendall brings to the office of board secretary more than 30 years of experience in energy management and renewable resource development in Oregon. He founded Kendall Energy in 2009 after almost two decades at the Oregon Department of Energy. Before working for the state, Kendall spent 11 years with the Eugene Water and Electric Board.
The returning treasurer, Susan Brodahl, is a vice president in the Portland office of Heffernan Insurance Brokers and an owner of Heffernan Group. Brodahl previously worked for Saif Corporation and as an insurance regulator for the California Worker's Compensation Insurance Rating Bureau.
Other members currently serving on Energy Trust's board include Melissa Cribbins, Coos County Commission, Coos Bay; Ernesto Fonseca, Hacienda Community Development Corporation, Portland; Lindsey Hardy, The Environmental Center, Bend; Anne Haworth Root, EdenVale Winery and Eden Valley Orchards, Medford; Eric Hayes, International Brotherhood of Electrical Workers (IBEW), Beaverton; Elee Jen, Energy Performance Engineering LLC, Newberg; Debbie Kitchin, InterWorks LLC, Portland; Henry Lorenzen, retired attorney and former member of the Northwest Power and Conservation Council, Pendleton; Roland Risser, retired from the U.S. Department of Energy, Washington County; Janine Benner, Oregon Department of Energy, Portland; and Stephen Bloom, Oregon Public Utility Commission, Salem. Representatives from the OPUC and the Oregon Department of Energy serve as non-voting board members.
More information about the board of directors can be found online at https://www.energytrust.org/about/leadership/. In addition, Energy Trust invites members of the public to all board meetings. A current meeting schedule, agendas and materials are published at https://www.energytrust.org/about/public-meetings/board-of-directors-meetings/.