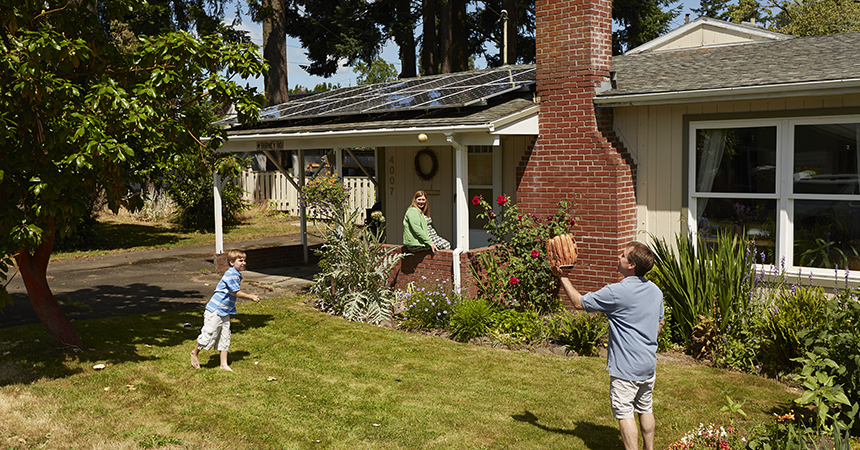 Energy Trust has introduced a new Solar Within Reach incentive to help income-qualified homeowners across Oregon go solar. Solar Within Reach provides higher incentives that cover more of the upfront cost of installing solar projects and is delivered by highly-qualified solar contractors.
For the past year, Energy Trust has been exploring ways to deliver solar-specific offers that are more affordable and accessible to historically underserved communities, including rural customers, customers with low incomes and communities of color. During its exploration, Energy Trust tapped the expertise of more than a dozen community-based organizations, local governments and others to learn their thoughts about potential, relevant new solar incentives and offers for customers with income restrictions.
Inspired by these community inputs, Solar Within Reach is Energy Trust's first solar offer for income-qualified homeowners. Incentives are currently four times higher than our standard solar incentive, enabling customers to cover nearly half of the cost of installing solar panels on their homes. The incentives are delivered by a highly qualified group of solar contractors who can help homeowners understand their options for going solar.
"Through Solar Within Reach, we can make rooftop solar accessible to customers for whom a solar project might be just out of reach financially," said Lizzie Rubado, renewable energy program manager. "With this incentive, more customers have a way to make clean, renewable energy and save money on their energy bills for decades to come."
As part of Solar Within Reach, contractors will provide longer, full-system warrantees at no additional cost, providing more peace of mind and protecting participants from the expense of an unexpected repair.
To qualify, customers must be served by Portland General Electric or Pacific Power, own their home, and have a household income that is at or below the income threshold. Homes can be single-family, manufactured, floating or attached, side-by-side duplex, triplex or fourplex units.
For more information, visit the Solar Within Reach webpage, or visit Energy Trust's website