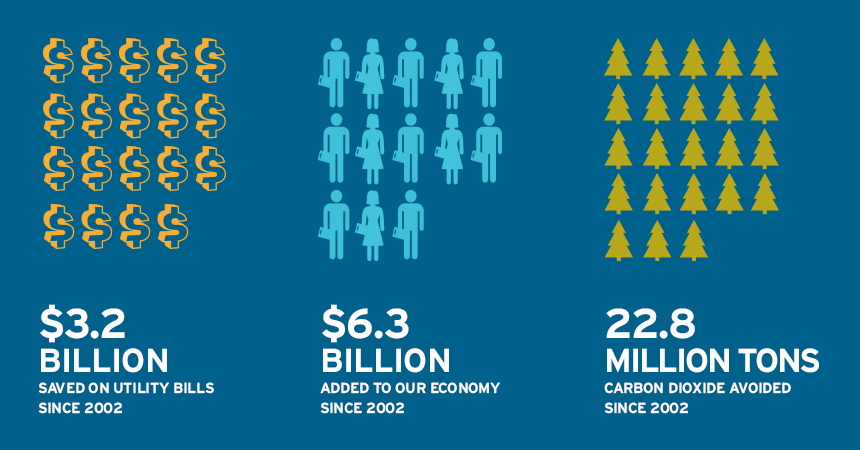 The benefits of energy efficiency are clear: less wasted energy in homes and businesses, reduced energy bills and less carbon in the atmosphere, just to name a few.
But the economic benefit created by energy efficiency is worth spotlighting. Nationally, energy efficiency efforts support 2.35 million jobs, according to a study by the National Association of State Energy Officials and the Energy Futures Initiative. Here in Oregon alone, the economic boost catalyzed by Oregonians through our commitment to saving energy has added up to billions of dollars.
In Oregon, 1.6 million Portland General Electric, Pacific Power, NW Natural, Cascade Natural Gas and Avista customers have saved more than $3.2 billion on their energy bills since 2002, thanks to energy efficiency retrofits, high-performance new construction and renewable energy systems such as solar. Over time, these savings will more than double to $7.6 billion.
Ultimately, these cost savings result in more money at the end of the month for Oregonians to put toward other needs like household bills, education or retirement.
On a macro level, money saved on energy goes back into our economy in the form of things like construction jobs, investments in our schools, and municipal projects that make our towns and cities run more effectively. When businesses save money by improving efficiency, they reinvest the savings into additional facility improvements or ways to provide more services to customers. For example, hospitals can manage costs and provide high-quality service to their communities, and brewers can get "more tasty beer out the door" when they invest in energy efficiency.
All told, since 2002, Energy Trust's work has added $6.3 billion to local economic activity, including $1.9 billion in wages, $343 million in small business income and the equivalent 51,000 jobs lasting a year. Thanks to Oregonians and our utility partners, this collective effort is transforming our economy for the better.