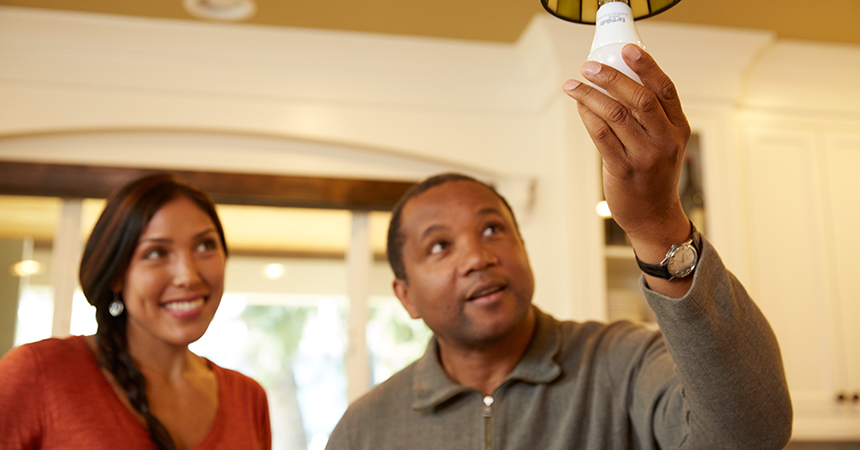 What's on your spring cleaning checklist? As you sort through each room, consider fresh lighting. Spring cleaning offers a great opportunity to replace old light bulbs with energy-efficient LEDs that save money and energy.
The average U.S. household has around 50 light bulbs, so that undertaking might sound difficult, but a good place to start is by replacing your five most-used bulbs with ENERGY STAR® LEDs. According to the U.S. Department of Energy, homeowners who replace their five most frequently used light fixtures can save $75 each year.
The five most frequently used bulbs are usually in the kitchen, family or living room, bathroom or entryway. Want better lighting over the bathroom mirror? Go with a globe LED. Need to be able to see in the dark while grilling outside? Check out an outdoor LED flood light.
LEDs provide the same brightness (lumens) as traditional bulbs while using much less energy (wattage). To find the right bulb for your needs, choose the lumen level that relates to the wattage you're replacing. Before you buy, use Energy Trust's interactive lighting wheel to help you pick the right bulb for any fixture in your home.
"When you're upgrading to new efficient LEDs, it's a good time to experiment with different lighting color tones," said Katie Wallace, residential spokesperson, Energy Trust. "ENERGY STAR LEDs come in warm white, soft white, cool white and daylight color tones. If you buy a replacement bulb that ends up being too warm or cool for that space, try switching it to a different area."
Energy-efficient LEDs are available at discounted prices at many retailers throughout the state. Look for the Energy Trust logo in stores near you to find bulbs that qualify. Discounts are automatic and included in the price.