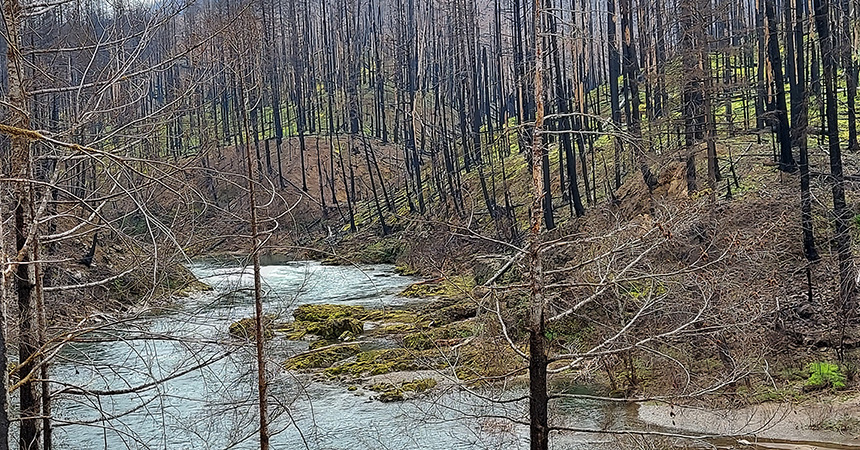 Last month marked the first anniversary of unprecedented climate change-fueled wildfires that burned more than 1,000,000 acres across Southern Oregon, destroying more than 4,000 homes.
Since then, local leaders, state agencies, nonprofits, builders and residents have been looking at ways to rebuild that better protect communities from wildfires. The need is clear, but it wasn't immediately clear what role Energy Trust could play in these recovery efforts.
"This is the first time this level of devastation has happened. The magnitude of destruction was just catastrophic," said Scott Leonard, a program manager working on Energy Trust's new homes construction offers. "They have so much to deal with and so much to consider that putting another thing on their plate—to say, 'have you considered energy efficiency?'—it's a pretty tall order for them."
Energy Trust offers cash incentives for building new homes that meet certain energy-efficiency requirements. But certain building practices can also make homes more resistant to fire while cutting energy use by as much as 10%.
Leonard's team got to work researching building codes and looking for what energy-efficient homes and fire-resilient homes have in common. For instance, exterior rigid insulation that helps keeps heat inside in the winter can also act as a fire-proof barrier during fire season. HVAC systems can be designed to better keep smoke out, triple-pane windows can protect against extreme heat and attic sealing can help prevent fire embers from entering the home.
With the help of Energy Trust, already nearly 100 energy-efficient and fire resilient homes are in the works. Leonard predicts in the coming years, construction will ramp up as more people receive insurance payments and relief funds from the Federal Emergency Management Agency.
In Talent, one of the areas hardest hit by last year's wildfires, local leaders like Michael Hoch, the city's sustainability and parks coordinator, had worked with Energy Trust before on energy-efficiency projects.
"We had a special opportunity to rebuild a part of Talent and wanted to try to figure out how we could incorporate sustainability, energy efficiency and also resiliency," Hoch said.
Hoch said it can be strange to see wildfire cleanup and new home construction taking place at the same time.
"Each day a wall goes up, it gives everyone in town more hope," he said.
For more information on Energy Trust incentives, call 1.866.368.7878.