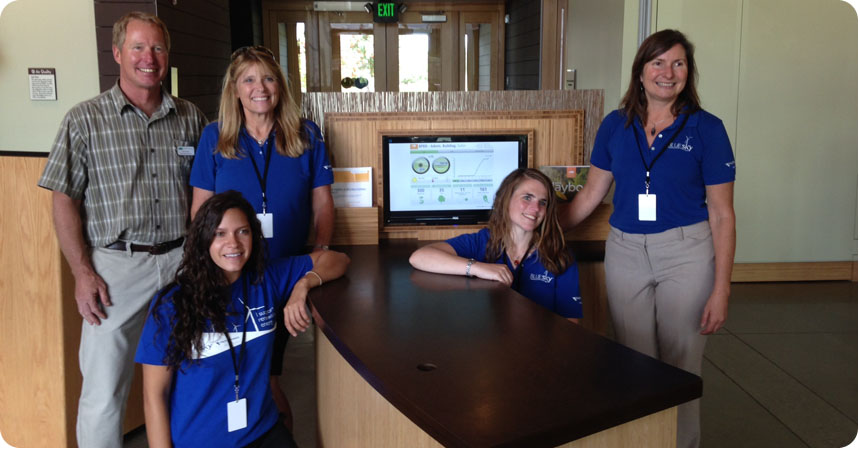 On August 20, Margie Harris, executive director of Energy Trust of Oregon, presented a $45,517 cash incentive to Bend Parks and Recreation District during a ribbon-cutting ceremony celebrating the installation of a new 42.9-kilowatt solar electric system.
With nearly 300 sunny days per year, Bend is a destination for outdoor enthusiasts. In 2009, the Bend Parks and Recreation District sought to take advantage of this abundant sunlight when planning a new administrative office building. Though a solar system was not in the original budget for the district's new Leadership in Energy and Environmental Design, LEED, Gold certified building, the district designed and built the office with solar-ready infrastructure to facilitate installation of a solar system in the future.
After receiving an incentive from Energy Trust, a Blue SkySM grant from Pacific Power and funding from the Oregon Department of Energy this summer, the district was able to install a solar system at no cost to district taxpayers. The new solar system adds renewable energy generation to the building's existing energy-efficiency features, such as radiant heating and cooling, passive solar design that maximizes natural lighting and an ecoroof garden that reduces water runoff.
"By combining energy-saving construction and clean power from the sun, Bend Parks and Recreation District has created an inspiring building," said Harris. "This project exemplifies what can be accomplished when a community comes together to work toward a common vision."
Installed by Energy Trust trade ally contractor Sunlight Solar Energy, the new solar system is estimated to save the district more than $3,000 a year in energy costs, which can be redirected toward operating parks and recreational programs for residents. The visible rooftop solar system and an educational kiosk in the lobby also catch the attention of community members, helping educate the public about the benefits of solar energy and energy-efficiency features.
To date, Energy Trust has helped customers install solar systems at more than 400 businesses and residences in Deschutes County, and more than 6,000 buildings statewide.