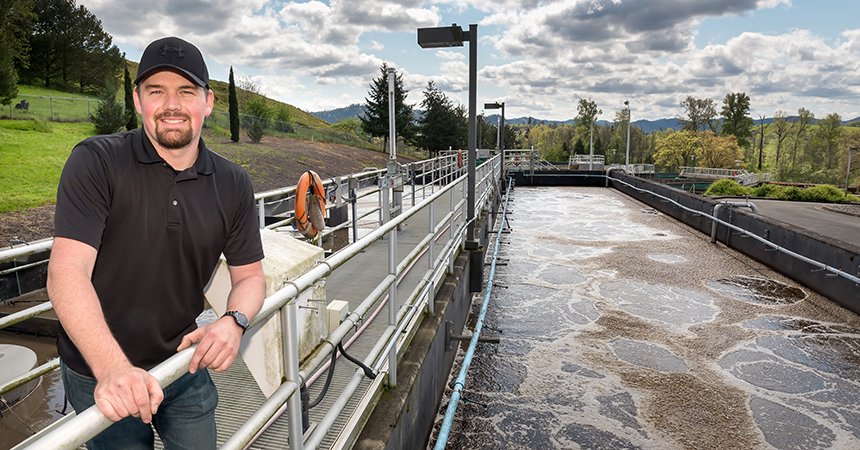 Aging aeration blowers at the Winston-Green Wastewater Treatment Plant, located in Winston, Oregon, had become a maintenance dilemma. The problem turned into a plus when the plant was able to replace the outdated equipment with help from Energy Trust.
The new equipment cuts annual energy costs by nearly $7,200 and gives plant employees better control of dissolved oxygen in the treatment process. Aeration blowers supply the oxygen to help compounds in wastewater metabolize, and can consume more than 50 percent of the energy used at wastewater treatment plants.
"Before, our blowers were always either on or off; there was no in-between," said Chris Sherlock, plant superintendent. "With the hybrid blower and variable frequency drive, we're now able to adjust the blower according to fluctuating demand." Controls on the new system are more sophisticated, with a range of set points that translate into more precise process control. "The equipment automatically senses and adjusts for dissolved oxygen," said Sherlock.
The project cost $103,600, and was completed with a $40,552 cash incentive from Energy Trust. Energy Trust also prepared an energy study on the new technology compared to the existing technology prior to installation. Winston-Green Wastewater Treatment Plant is served by Pacific Power.
In addition to cost savings, Winston-Green Wastewater Treatment Plant is expected to use 133,500 fewer kilowatt hours of electricity each year, and cut carbon dioxide emissions by 60 tons annually. Those savings are equivalent to the amount of electricity used by a dozen homes.
Energy savings at your facility
Wastewater treatment is an energy intensive process. With pumps, motors and other equipment operating 24 hours a day, seven days a week, it's no surprise that wastewater recovery facilities are among the largest consumers of energy in a community—and among the largest contributors to greenhouse gas emissions.
The good news is wastewater facilities throughout Oregon are achieving substantial energy and financial savings through operational and maintenance changes and capital improvements. Their investment in energy efficiency has allowed them to stabilize rates, meet local sustainability goals and improve effluent quality.
Energy Trust is committed to helping wastewater facilities pursue these goals. Our highly skilled energy experts understand the specific needs of a facility, providing technical assistance and cost analyses. We offer cash incentives for capital equipment upgrades, operations and maintenance improvements, Strategic Energy Management and renewable energy installations.
Biopower
Water resource recovery facilities can also use anaerobic digestion to treat wastewater, produce biogas and generate renewable electricity.
In Oregon, the City of Gresham Wastewater Treatment Plant is the first in the Pacific Northwest to generate the same amount of electricity as it consumes on-site over a year. The plant achieved net-zero energy consumption by producing biogas on-site from the anaerobic digestion of wastewater solids, installing solar electric systems and investing in energy efficiency. Energy Trust provided long-term technical assistance, project development support and more than $1 million in cash incentives, and the Oregon Department of Energy contributed additional funding.
Resources to get started