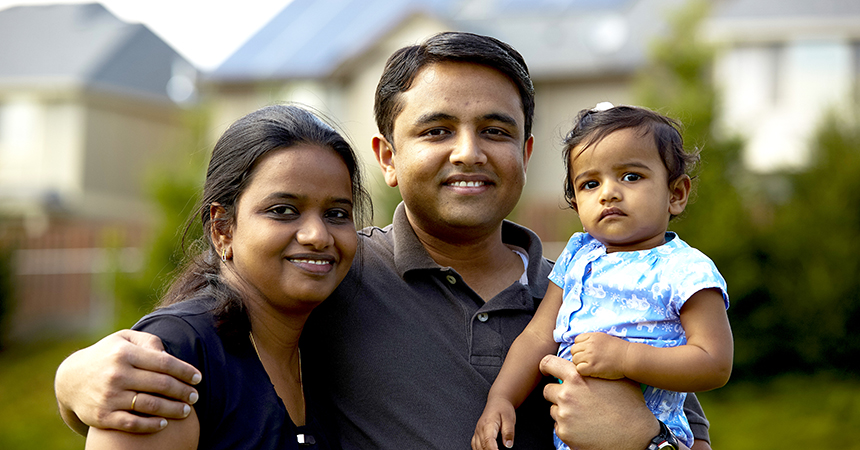 Small-scale renewable energy projects enable Oregonians to produce their own power from the state's abundant natural resources. With Energy Trust of Oregon's support, these innovative projects reduce energy costs, support local economies, conserve resources and help develop a resilient power grid.
Cost savings
Renewable energy systems—such as solar panels, hydropower turbines, biogas projects, geothermal plants and wind turbines—can offset utility costs and generate income for homeowners, multifamily property owners, small and large businesses, nonprofits, manufacturers, farmers, ranchers, school administrators and municipalities.
Economic growth
When Energy Trust incentives and expertise make renewable energy installations easier and more affordable for customers of Portland General Electric and Pacific Power, Oregon benefits with new jobs, stronger companies, more investment in our communities and homegrown innovation.
Natural resource conservation
Small-scale renewable projects help reduce Oregon's use of fossil fuels, resulting in cleaner air and water. Hydropower projects—such as the Watson Hydropower Facility near Sisters, Oregon—include irrigation modernization improvements that benefit fish and wildlife habitat, conserve water and enhance water quality. Biogas processing facilities—such as Gresham's wastewater treatment plant—turn food, agricultural and municipal waste into energy.
By supporting small-scale renewable projects, Energy Trust helps Oregon avoid 1.1 million tons of carbon dioxide every year. That's like taking 200,000 cars off the road. The sum of these parts is environmental protection on a statewide scale.
Grid resiliency
Energy generation for a city or state is often centralized in just a few places. As more homes, businesses and communities install renewable energy systems, these miniature power plants lay the groundwork for a more reliable, resilient power grid.
In today's grid, energy largely flows in one direction: from a utility provider to consumers. In tomorrow's smart grid, electricity and information will flow both ways through an interactive network that is more resilient. By enabling families, businesses and communities to generate energy from local renewable resources, small-scale renewable energy projects are empowering a transformation in how Oregon is energized.
Oregonians are vulnerable to a range of natural hazards, from windstorms, droughts and wildfires to earthquakes and tsunamis. By generating and storing energy from natural resources in Oregon communities, we help reduce dependence on infrastructure that could be compromised in a disaster.
Choices
According to local and national surveys, Oregonians increasingly want to choose how their energy needs are met—and many strongly support clean, renewable energy sources. Energy Trust helps meet these demands by giving more Oregonians a say in how their homes and businesses are powered.
Leading Oregon's renewable future
As a nonprofit organization, we help Oregonians from Astoria to Klamath Falls produce clean energy that powers small businesses, schools, homes, farms and more. We do this by connecting customers with incentives and tax credits, referring them to qualified contractors, providing technical reviews of designs and verifying systems after they're installed.
Through Energy Trust's small-scale renewable energy programs, more than 10,000 clean energy systems are generating power across Oregon. Learn about the renewable energy projects we've supported.
Get started
Visit www.energytrust.org to find out what renewable energy and energy efficiency can do for your home, business, factory or farm.