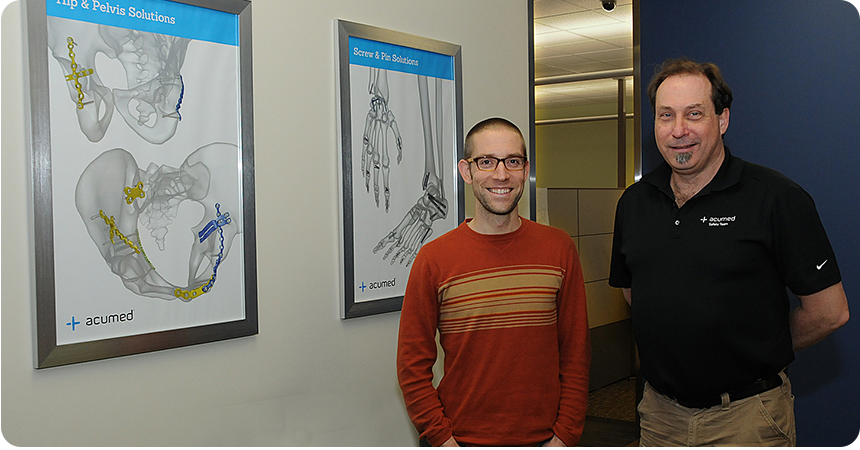 Acumed, a leading designer and manufacturer of orthopedic implants and surgical devices, is no stranger to energy efficiency. In the past five years, the company cut annual energy costs by nearly $50,000 by working with Energy Trust to improve lighting and HVAC systems.
In 2015, the company decided to dive deeper. With Matt Osborn and Brian Schultz as co-energy champions, Acumed joined Energy Trust's Strategic Energy Management, SEM, initiative to fine-tune its operations and maintenance practices—a decision that led to establishing an annual energy savings goal of 6 percent at both of Acumed's Hillsboro facilities.
"SEM heightened our awareness about additional ways to trim energy costs," said Osborn, facilities manager. "It provided a roadmap and the tools and resources to help us work toward achieving long-term savings." One on-site exercise Osborn found particularly useful was an energy treasure hunt that identified and prioritized operations and maintenance energy-savings opportunities at both facilities.
As a result of the scan, Acumed adjusted the set points on its HVAC system to optimize how it was using its building control system. "That change delivered the greatest operating savings," said Osborn. Osborn employs a customized energy intensity model provided by Energy Trust to monitor facility energy use, normalize it against production, weather and other variables, and track the results of Acumed's energy-saving efforts.
With Osborn implementing equipment changes and providing data, co-energy champion Brian Schultz was busy with the employee engagement aspects of SEM. Working with Acumed's Green Team, an environmental stewardship group with representatives from across the company, Schultz adapted Acumed's existing Process Improvement program, rebranded it as "Green PI" and used it to gather ideas from employees about energy efficiency. "We created displays of how we were using energy and challenged employees to suggest ways to reduce pieces of the pie," said Schultz. "It made our SEM efforts more visible for employees and generated a flurry of ideas to explore."
Schultz also unleashed the Leak Geeks—employees tasked with finding and tagging compressed air leaks using an ultrasonic leak detector purchased by Acumed after the energy scans. "We asked shop supervisors to work with employees in all manufacturing cells to identify leaks," said Schultz. "Repairing compressed air leaks resulted in significant improvements in air compressor efficiency."
Both Schultz and Osborn are firm believers in the role employee engagement plays in delivering ongoing energy savings. "The structural and equipment improvements are important, but it's the overall cultural change and resulting employee behavioral changes that make success sustainable," said Osborn. It's no wonder that among its SEM cohort, Acumed received special recognition for Excellence in Employee Engagement.
As co-energy champions, Osborn and Schultz have found their skill sets to be complementary, and the division of labor has made it easier for them to build momentum with SEM.
"SEM is definitely worth the effort. I'm a big advocate," said Osborn, who will participate with Schultz in an SEM panel at the 8th Annual NW Industrial Energy Efficiency Summit on January 13, 2016, at the Oregon Convention Center. They are excited to share their positive experience with others.