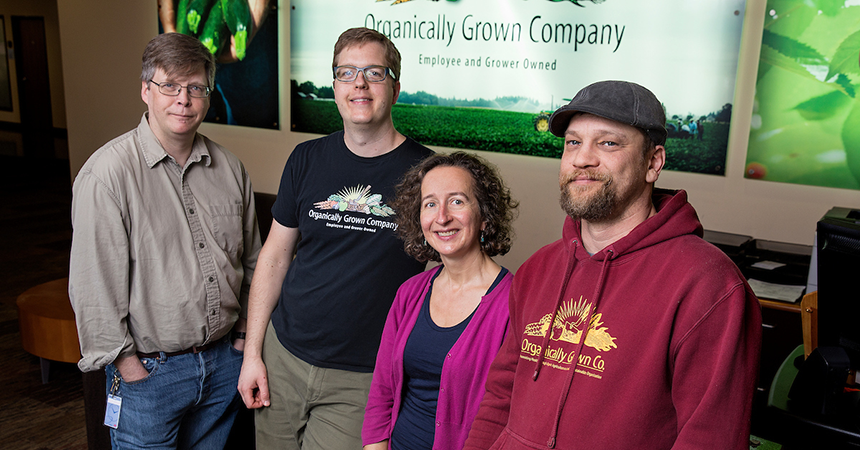 Organically Grown Company, the largest distributor of organic produce in the Northwest, is an employee- and grower-owned company that views sustainability as a continual work in progress and a way of doing business. Given that philosophy, employees at Organically Grown Co.'s Portland facility were all in when they heard about Energy Trust's Strategic Energy Management initiative (SEM).
"Because SEM focuses on no- and low-cost operations and maintenance practices, we figured it would be a great way to address issues and vet ideas we'd been considering in Portland for some time," said Kimberlee Chambers, supply chain and sustainability program manager, Organically Grown Company. "It turned out to be a great learning experience that reduced our annual energy use by almost 2 percent above what we'd accomplished with capital energy projects."
"Through SEM, Energy Trust showed us how to build an energy team to help lead our efforts, with representatives from maintenance, warehouse, information technology and co-worker innovation," said Chambers, who served as the energy champion, coordinating the team's work and inspiring the facilities' other 200 employees to get involved.
During SEM, the Organically Grown Co. energy team learned how to identify energy-saving opportunities that can deliver significant and persistent savings. Organically Grown Co. was part of a cohort of Portland-area companies participating in SEM in 2016. The year-long initiative included six workshops on topics such as setting an energy-saving goal, developing an energy policy, looking for hidden savings and tracking energy performance.
One of the team's first activities was going on an energy "treasure hunt" with representatives from Energy Trust—touring the facility, identifying dozens of energy-saving opportunities and prioritizing them. "It was great having Energy Trust participate because they understood our systems and uncovered opportunities we might not have thought of ourselves," Chambers said.
One energy-saving strategy involved rethinking the use of heaters, coolers and fans in the banana ripening room. "They turn on when the room's doors are closed, even if there are no bananas in the room," explained Chambers. "Our new solution is simple: Keep the doors open when the room is empty, effectively turning off energy-intensive systems when they're not needed."
Employee engagement is a big part of SEM and that turned out to be a natural fit for Organically Grown Co. "We are a bottom-up company, and we have a co-worker innovation program that recognizes the power of ideas from individuals at all levels," Chambers said. Tapping into co-worker innovation surfaced additional savings opportunities. "Our loading and receiving dock is a temperature-controlled space, and employees pointed out that we'd save energy if we controlled our will-call door manually rather than automatically." As a result, Organically Grown Co. decreased the door's open-and-close cycles by an average of 35 times per day, saving about 6,500 kilowatt hours of energy.

Overall, SEM was so successful for Organically Grown Co. that the company signed up to work with Energy Trust for another year of SEM, challenging employees to look for even more savings.