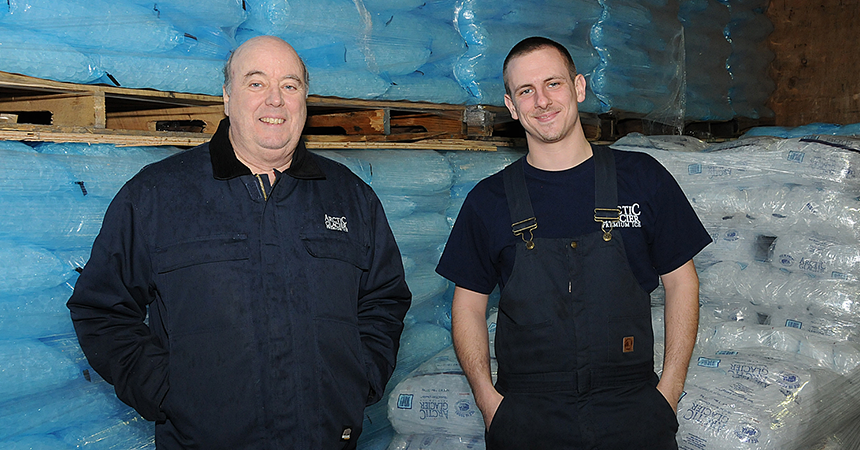 When production supervisor Ryan Shaffner became Energy Champion for Arctic Glacier, he viewed Strategic Energy Management, SEM, as a "long road approach to finding ways to lower energy costs." In just one year, the ice-making plant has trimmed its total annual electric usage by an estimated 3.6 percent from SEM. The immediate results surprised the plant's management team and helped to seal the company's commitment to ongoing energy management.
Arctic Glacier produces, markets and distributes high-quality packaged ice at its 94 facilities across the U.S. and Canada. In response to a corporate directive that all plants reduce energy costs, Howard Harlow, plant manager, handed over the challenge to the ambitious Shaffner. "He has embraced our goal to cut costs and to be a corporate energy-efficiency leader," said Harlow.

Arctic Glacier began participating in Energy Trust's SEM initiative in 2014. During the process, Energy Trust  helped the plant to identify dozens of energy-saving opportunities. "Part of it required looking at equipment and processes and thinking about how to use them smarter," Shaffner explained. "Another part was educating people to change behavior. At one point, we were following people and turning off lights and equipment. It took a few weeks, but people started noticing and doing it themselves."
During the SEM engagement, Arctic Glacier implemented 10 no-and low-cost actions, including shutting down air compressors, raising freezer setpoints, turning off lights, and tuning HVAC settings in strategic locations.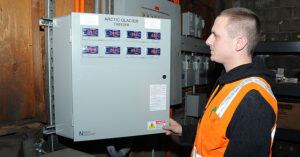 By the conclusion of SEM, Arctic Glacier outlined a goal of 5 percent energy savings for each of the next five years. "SEM has helped us develop a clear path for the future," said Shaffner. "It has changed our mindset day-to-day and long term."
Harlow adds, "The whole company is noticing. Ryan will have an opportunity to present our program nationwide. He's lived up to the title Energy Champion."