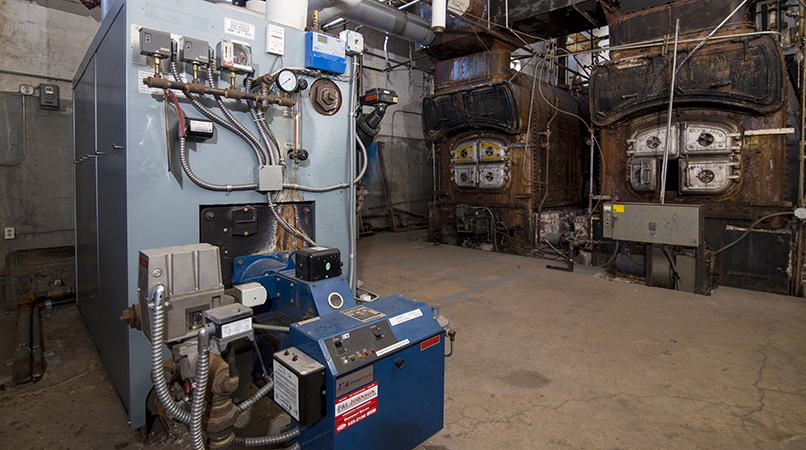 Property managers can reduce energy use and save significantly on annual energy costs by upgrading existing gas equipment to energy-efficient equipment at their multifamily property. Oversized or neglected central steam and water heating systems like boilers and water heaters can lead to increased maintenance costs, temperature control issues and premature system failure. Replacing or installing new gas equipment including boilers, tankless water heaters, thermostatic radiator valves (TRVs) and steam traps will help improve energy-efficiency, tenant comfort and help reduce costly system repairs.
Energy Trust of Oregon offers cash incentives on high-efficiency gas equipment to help make upgrades more affordable.
High-efficiency condensing boiler – High-efficiency condensing boilers offer a vast range of high-performance heating benefits for today's multifamily property. Energy Trust offers up to $8.50 per kBtu/h. Additional requirements apply.
Gas Commercial Tankless Water Heater – ENERGY STAR ® condensing tankless units use 15% less energy than conventional commercial units. Tankless water heater incentives from Energy Trust are based on property type and must supply hot water to multiple units. Additional requirements apply.
Steam traps – Steam traps should be maintained and inspected regularly to maximize system efficiency. Prevent overheating and avoid inconsistent performance by replacing or repairing failed open stream traps. Energy Trust offers $100 per repaired or replaced failed steam trap, which often covers a large portion of the installation cost.
TRVs – TRVs are a low-cost and simple solution to improve distributed control of steam heating systems. The self-regulating valve allows tenants to control the temperature at each radiator for enhanced efficiency. There are also "smart" models available that provide remote monitoring for increased control. Energy Trust offers $100 each for gas central hydronic or steam systems. Additional requirements apply.
Need help getting started with a project? An energy advisor will come to your property to recommend energy-efficient improvements that qualify for cash incentives. Make an appointment with an energy advisor by calling 1.877.510.2130 or email multifamily@energytrust.org.