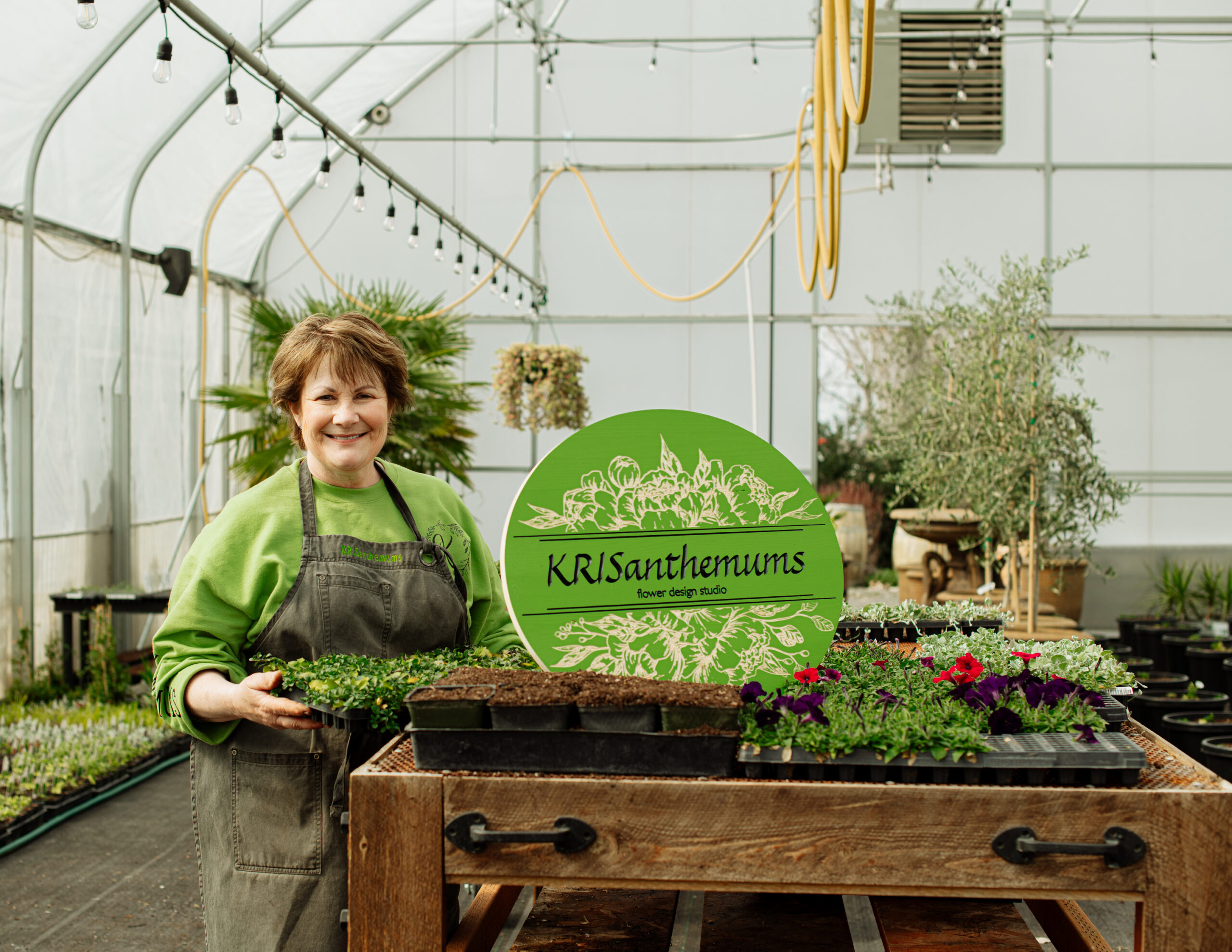 In many ways, Kris Bennett, owner of KRISanthemums flower design studio in Hermiston, is in the business of comfort—designing floral arrangements that make customers feel special, whether for a wedding or streetscape. So, it's no surprise that she's taken steps to make her greenhouse a comfortable, thriving environment for her plants, customers and employees. In the past few years, Bennett has invested in several energy-efficiency upgrades that have tempered the greenhouse environment while cutting her natural gas costs by an estimated $1,800 per year.
Bennet started out by installing high-efficiency natural gas condensing unit heaters and an infrared polyethylene greenhouse cover to keep her greenhouse warmer and protected from the Eastern Oregon climate. She worked directly with her greenhouse vendor to order equipment and receive an Energy Trust rebate of $1,600. "I knew upfront how much the rebate would be. Receiving it involved filling out and emailing a one-page form," said Bennett.
Within a couple of years KRISanthemums decided to take energy-efficiency to the next level by replacing the single-wall corrugated end walls of the greenhouse with twin-wall polycarbonate end walls. "I spend a lot of time in there and what a tremendous difference it's made," said Bennett. "There's no cold air coming in. Even in February, I don't need a coat because it's 60 to 70 degrees inside."
"My husband runs a landscaping company, so we were able to save money by doing the installation ourselves," she said. "And, of course, both the Energy Trust cash incentive and projected energy savings made the return on investment more favorable. I love it that Energy Trust calculates how much an investment will save the business. It means I don't have to do the math myself!" Bennett received an Energy Trust cash incentive of $1,600 for the upgrade.
Could your nursery benefit from energy-efficiency upgrades? Check out the latest no- and low-cost tips and resources to make your business run better, visit www.energytrust.org/for-business or call 1.888.777.4479.