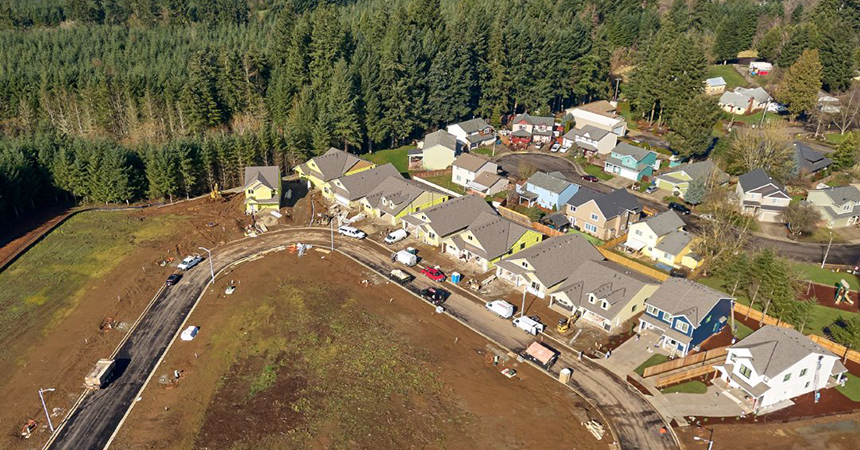 I&E Construction understands the benefits of energy efficiency, both for their business and for the homebuyers who move into their homes. The full-service general contractor, based in Clackamas, works closely with the Oregon Home Builders Association and Energy Trust of Oregon to build cost-effective homes that offer reliable comfort and energy savings year after year.
A big part of I&E's commitment to energy efficiency is customer satisfaction. They work hard to anticipate the needs of future clients, knowing buyers are showing stronger interest in energy-saving features and have a clear picture of their energy costs and carbon footprint.
That's where the company makes good use of Energy Trust's EPSTM New Construction offering. EPS is an energy performance score based on a home's energy consumption and generation. It gives potential homebuyers a better understanding of how much energy their home will use and how much it will cost to operate—before they buy.
At their Kooiman Estates development in Hubbard, I&E worked with Energy Trust and local third-party verifier Super Green Homes to ensure that all 31 homes earned an EPS. "It most definitely impacts the marketability of the homes," said I&E project manager Trofim Matveev, and helps prevent homebuyers from becoming house poor due to unexpected utility costs often associated with a new home.
Each home in the development includes an efficient furnace, tankless water heater, smart thermostat and improved insulation, and all are built solar ready. It's a great example of the future-focused approach I&E takes to building energy-efficient homes that are made to last. "When the customer is happy, we're happy," says Matveev.