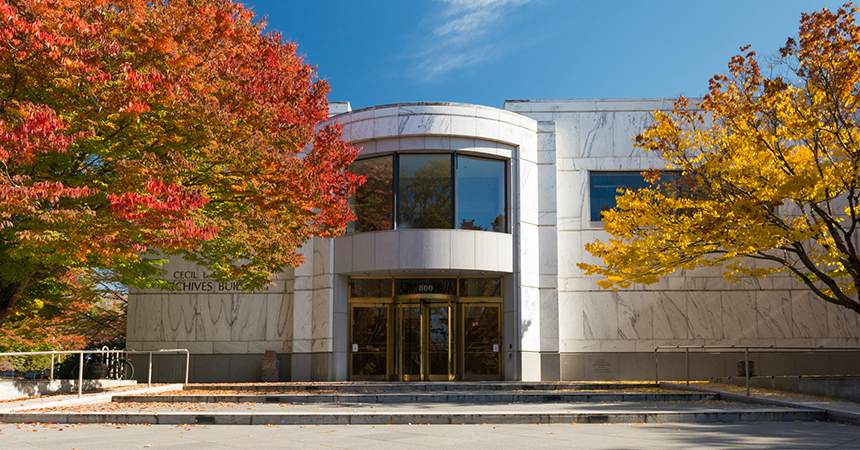 Photo courtesy of the Oregon Department of Administrative Services
Brimming with the rich history of Oregon, the State Archives Division of The Oregon Department of Administrative Services (ODAS) protects records of the past. The Archives building is a 46,600 square foot, two-story building located in Salem containing records that must be housed in precise conditions.
Mary Beth Herkert, director, State Archives Division explained, "The building needs to remain a constant 65 degrees and 45 percent humidity to preserve paper documents and 60 degrees with 40 percent humidity for video. There can't be more than a 5 degree or 5 percent humidity fluctuation. A shift in temperature or humidity accelerates deterioration and puts the records at risk."
Preserving Oregon's history is the top priority for Herkert and her team, who are responsible for records management and reference services for the state. The historical archives housed within this building, under their watch include:
40,000 boxes of records
Nearly 14,000 volumes of papers
187,000 reels of microfilm
Over 200,000 audiotapes
Thousands of photos
The building is home to priceless historical state documents, including all legislative and governor records dating back to the 1800s, landmark Oregon Supreme Court case files, all filed state trademarks, minutes from the 1857 Oregon Constitutional Convention, and the original Oregon state constitution. The oldest document—from 1837—is a petition from prominent citizen Ewing Young to start a cattle company.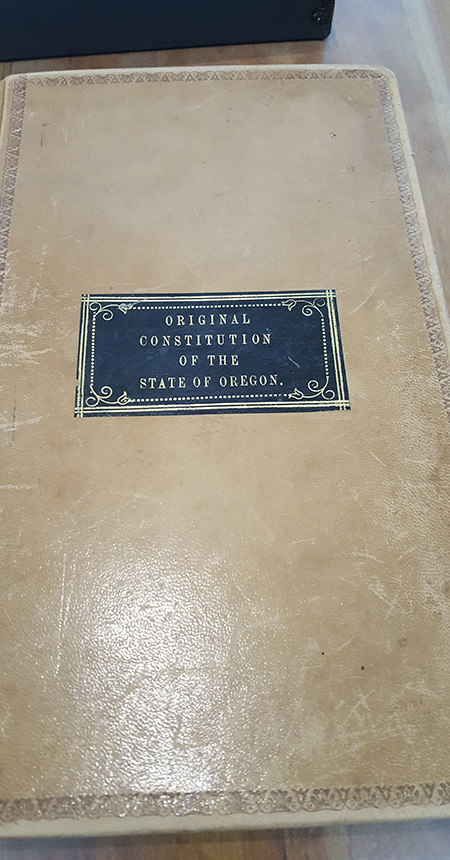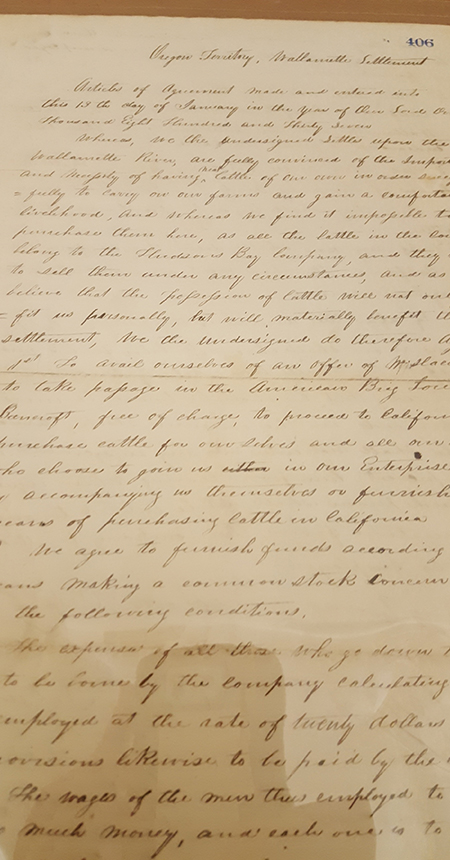 (Left) Original State of Oregon Constitution, (Right) 1837 petition to start Willamette Cattle Company, photos courtesy of the Oregon Department of Administrative Services
The work Herkert and her team do to maintain these records is extremely valuable for attorneys, genealogists, serious historians, students, and general citizens. Maintaining records isn't just necessary for in-person visitors, but also for digitizing records since the Archives website gets well over a million visitors a year. Energy Trust was able to help the archivists keep these records intact while saving energy and money for the state.
When it came time to update their dehumidifiers and temperature controls, Floyd Peterson, HVAC supervisor for ODAS worked with Energy Trust to come up with a solution that would protect the records in the archives while reducing energy and providing a modern, user friendly way to control humidity and temperature.
Peterson and his team took advantage of Energy Trust incentives that covered multiple upgrades, including four new dehumidifiers and a new split system in the electrical vault using chilled water to help maintain room temperate. ODAS also used the money they saved with previous Energy Trust energy-efficiency projects to make temperature and humidity control changes. As a result, ODAS energy costs have gone down and the historical state records are being kept in a favorable environment that is easier to control.
"We were on board as long as we could meet the environmental regulations," said Peterson. "We understood this wasn't just a regular state office building. Oregon's history was at stake." Floyd Peterson, HVAC supervisor
The Archives building dehumidification project illustrates the efforts ODAS has made to fulfill the Governor's climate action initiative to reduce carbon and increase renewable energy across the state. "We now have a secure environment and don't worry about temperature or humidity fluctuations," says Herkert. "Plus, the new control panels are more visible, so it's easier for staff to monitor temperature and humidity and quickly address any issues."
"It's a huge benefit to have Energy Trust cover the costs of an initial study and then get rebates on projects," Peterson says. "These rebates are significant for us and allow us to move forward on projects we may not have been able to afford. Plus, we can use the energy savings on new commercial equipment that will help us save even more."
Energy Trust recognized ODAS for its recent energy-saving efforts with a Big Check Ceremony, presenting them with an incentive check for $170,000. The Archives building is now saving an estimated $51,000 in annual energy costs. With Energy Trust's help, ODAS is preserving Oregon's history while making extra operating costs a thing of the past.
---
PROJECT AT A GLANCE
Oregon State Archives Building
Four dehumidifiers
Split system
Financial Analysis
$238,000 project cost
$170,000 in Energy Trust cash incentives
Estimated Energy Savings
497,000 kWh
15,000 therms
Over $51,000 in utility bills savings
See more details on how Energy Trust can help your business complete energy-saving upgrades »