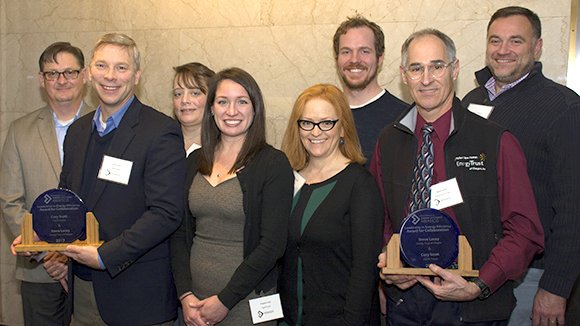 Photo from left to right: Alan Meyer, Jr., Cory Scott, Kari Greer, Angela Long and Barbara Modey of Pacific Power; Andy Eiden, Steve Lacey and Michael Colgrove of Energy Trust
The Northwest Energy Efficiency Alliance has announced winners of the 2017 Leadership in Energy Efficiency Awards. These awards recognize outstanding collaboration, innovative solutions and achievements that have significantly contributed to greater energy efficiency in the northwest. The regional energy efficiency community participated in nominations, and a panel of northwest energy and utility leaders selected the winners
Pacific Power and Energy Trust of Oregon won the Leadership in Energy Efficiency Award for Collaboration for the Targeted Community Pilot, a two-year project to deploy existing energy-efficiency programs in select communities.
Through this pilot, Pacific Power and Energy Trust seek to determine the impact a targeted energy efficiency effort can make on a region's electrical peak demand.
Because the North Santiam Canyon area is forecasted to experience significant business growth within the next one to three years, it was selected as an ideal location to test new ways of promoting energy efficiency—with the potential to bring additional value to growing communities.
To better understand and forecast the impact on peak reduction of location-specific energy efficiency upgrades, Energy Trust and Pacific Power are promoting targeted energy-efficiency offerings to approximately 3,000 residential, commercial and industrial customers in the North Santiam Canyon cities of Aumsville, Gates, Lyons, Mehama, Mill City, Scio and Stayton.
Lessons learned from this pilot will inform future energy-efficiency approaches, help the organizations to develop expertise in peak demand reduction efforts and identify how strategies could be replicated in other areas.
"We are fortunate to have such experienced leadership that brings innovation and collaboration to our alliance. Their dedication makes a huge contribution to energy efficiency in the northwest," said Susan E. Stratton, NEEA's executive director. "As we celebrate twenty years of working an as alliance, these are exactly the types of leaders who will move our region forward."
Kevin Van Den Wymelenberg of the University of Oregon's Energy Studies in Buildings Laboratory garnered the Leadership in Energy Efficiency Award for Innovation. Since 2000, Van Den Wymelenberg has consulted on hundreds of new construction and renovation projects with architects and engineers regarding energy efficiency with an emphasis on passive and integrated design strategies.
Graham Parker of the Pacific Northwest National Laboratory (PNNL) won the Tom Eckman Leadership in Energy Efficiency Award for Lifetime Achievement in recognition of his more than 40 year-career in energy efficiency, in both the northwest and beyond. Margie Harris, who presented the award to Parker, received the achievement award last year as the outgoing executive director of Energy Trust of Oregon.