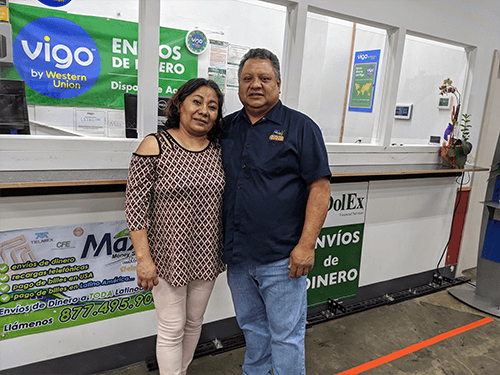 For Irma and Armando Nocedal, Tienda Mexicana Monte Alban is more than a restaurant and market. Named after an ancient archaeological site in Oaxaca in southern Mexico, the Woodburn, Oregon, gathering place embodies their pride in the food and heritage of their homeland.
"We used the incentive money to buy a new high-efficiency refrigerator." —Armando Nocedal, Owner, Tienda Mexicana Monte Alban
When the Nocedals leased the former location of a former bakery and started purchasing new foodservices equipment, the restaurant equipment sales staff told them about Energy Trust of Oregon cash incentives. They had already heard about Energy Trust incentives available to businesses purchasing energy-efficient equipment from Portland General Electric and the City of Woodburn. Talking about the incentives for gas fryers with their foodservice dealer prompted the Nocedals to purchase high-efficiency models for their new business.
They received a $2,000 incentive from Energy Trust for installing two high-efficiency gas fryers, which should save about $650 in annual energy costs. "We have friends with similar businesses who use old fryers," Armando said, "and they tell me their utility bill is high. So, we are sure that buying new, energy-efficient fryers was a good decision. Plus, we used the incentive money to buy a new high-efficiency refrigerator."
Get to know Energy Trust. Find out more about foodservice incentives and how they can help your business at www.energytrust.org/existingbuildings.