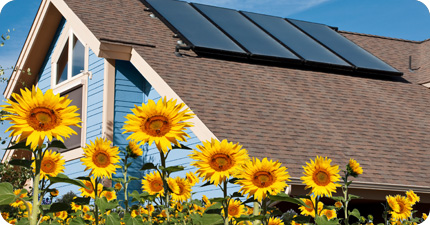 Located in Northeast Oregon, Umatilla County is named for the Umatilla River, which in turn was named for the Umatilla people, a Native American group that has historically lived in the area. The county seat of Pendleton, home to the famous Pendleton Round-Up and the place from which Pendleton Woolen Mills takes its name, has been a leader in community-led energy efficiency and solar installations.
To date, Energy Trust has provided more than $8.5 million in cash incentives to residents and businesses of Umatilla County. This has resulted in saving or generating more than 148 million kilowatt hours of electricity and saving 232,000 therms of natural gas. This is equivalent to powering 13,000 homes and heating 450 homes with natural gas for one year.
The Solarize Pendleton program, spearheaded by the City of Pendleton and in collaboration with Energy Trust, helps residents overcome the informational and financial obstacles to installing solar systems. Working with Energy Trust trade ally contractors, residents can request a free solar site assessment that will provide options for various solar installations, including water heating and electric. Residents have access to solar equipment at discounts of up to 75 percent with Energy Trust incentives and state and federal tax credits, and can apply for an interest-free loan to help spread out the cost of the system. This program is a major reason that Pendleton reports it has the greatest number of solar installations per capita in the Northwestern United States.
Energy Trust has also provided incentives for a number of small hydropower projects in Umatilla County. When water is pumped into underground aquifers during winter floods for use in irrigation during the dry summer months, some of the energy used in pumping the water can be recaptured through in-pipe hydropower generators.
Energy Trust hosted a trade ally contractor roundtable discussion on August 28 in Pendleton at Blue Mountain Community College. This is part of Energy Trust's ongoing effort to provide trade allies in Umatilla County with the most current information and to create a forum to hear ideas, questions and suggestions.
Find more information on Energy Trust services and incentives.