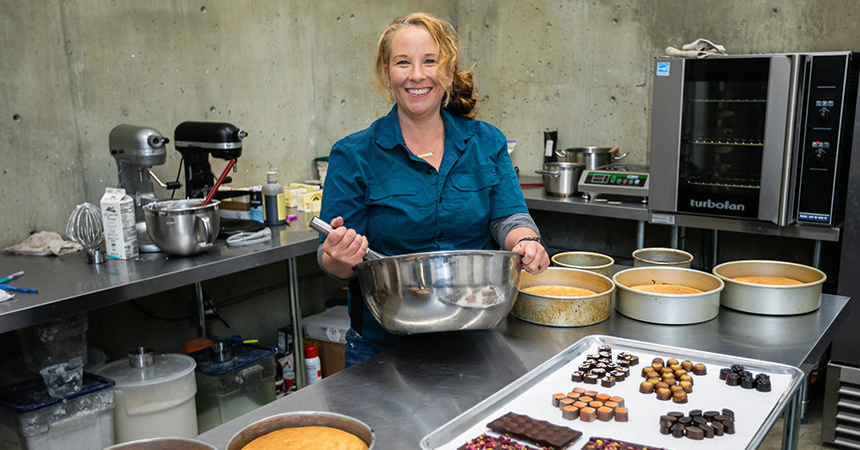 Jessica Wright can't help but think about the impact her business has on the environment—now and for future generations.
"Because I have young children, I believe in having the most responsible business possible. It's really about being a responsible human being," she said.
Wright owns Columbia Gorge Confections, a chocolatier and bakery in Hood River. She started working in restaurants when she was 15 and had seen a lot of waste in food service. When she started her own business, she vowed to do it differently.
To reduce energy use and avoid single-use plastic, Wright sources ingredients from local suppliers, uses American-made packaging materials that are printed locally and reuses everything she can, including cardboard boxes and plastic bubble wrap.
Her sustainable choices include heavy curtains to help the shop stay at a consistent 67 degrees year-'round. "I have to keep it temperature-controlled for obvious reasons, right? It's chocolate!". She also washes dishware by hand instead of using a commercial dishwasher and drives a hybrid vehicle to deliver her products to local buyers.
"I am constantly learning, evolving and trying to be mindful and intentional about the choices that I make," Wright said.
When it came to choosing an oven for her custom cakes, she prioritized efficiency, too. Because of how her space is set up, she needed a convection oven that didn't require a hood vent. Luckily, Pitman Restaurant Supply, a family-owned business in Portland, had the model she needed. Her purchase also qualified for more than $300 in cash incentives from Energy Trust of Oregon.
Applying for the incentive was simple, she said, especially compared to rebates she'd claimed when doing home improvements. "It was a really easy process. Pitman gave me the paperwork, and the check came fairly quickly."
The new oven will save her about $125 a year on energy bills. That's money Wright could put toward extra help during the holidays or give to one of the community causes she supports. These include a dance scholarship at her high school in Coos Bay and regular donations to The Next Door in Hood River, an agency that helps troubled youth and does inclusion training for local business owners. Proceeds from two of her chocolate bars, Gorge Pride and Black Lives Matter, benefit the nonprofit.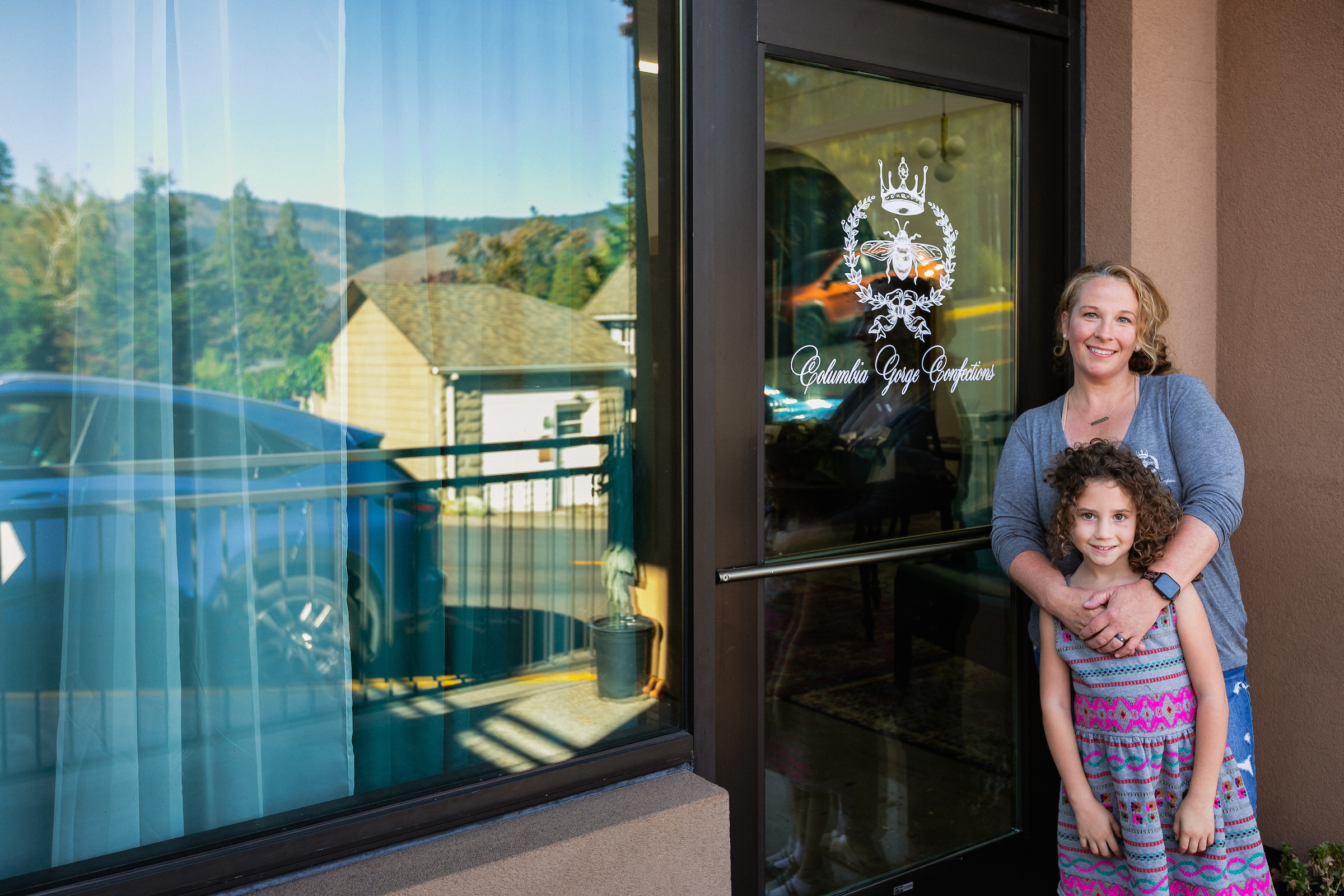 Jessica Wright started Columbia Gorge Confections because she wanted to build a business that could support her family. "My daughter is my No. 1 fan. She tells everyone she meets, 'Do you know what my mom does for a living?' It's pretty sweet."
"Giving back is deeply innate in me," Wright said. "To be able to give back, even though I don't have a multimillion-dollar business, is really important. Even if it helps a little bit, or changes somebody, it's a start."
When she left the restaurant business to start Columbia Gorge Confections, Wright did so because she wanted her hard work to go into building something for herself and her family. She also wanted to be able to lead with her values while doing something she loves.
"For me it's not about the money," she said. "I pay myself just enough to help support my family."
"All these little things—the environmental things, giving back to the community, supporting other local businesses—when you put it all together, it does make a difference. Those are my core values, not only as a person, but as a business owner. I couldn't—I wouldn't—do it any other way."
Learn how Energy Trust can help your business run better.