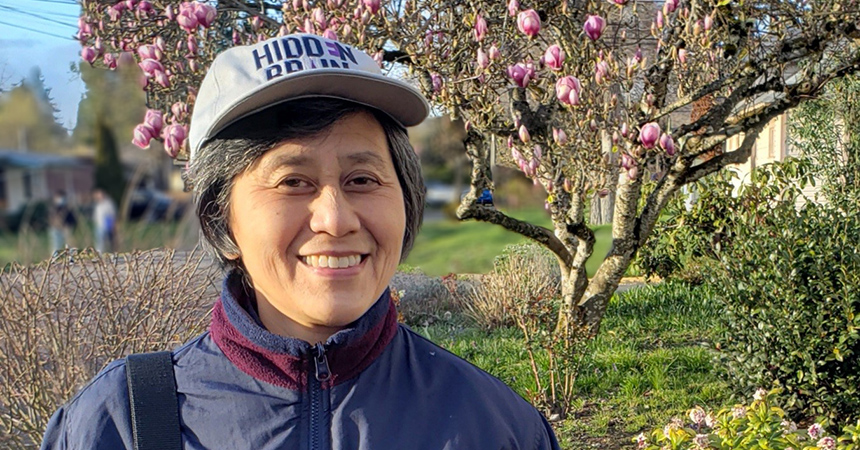 Welcome to the latest installment in a series of interviews with women who are transforming the world of design and development and inspiring us every day.
Nancy Yen-wen Cheng is an associate professor of architecture at the University of Oregon (UO) where she teaches sustainable architectural design and digital methods and serves as a mentor for current and past students. She recently served as chair of the Architecture Department, transitioning the school to a new structure and remote teaching during the COVID-19 pandemic. In her work, Cheng studies how tools and approaches shape the design process, focusing on digital technology as a nexus for innovation and cultural change.
Cheng shares her recent experiences collaborating with colleagues across the globe to tackle homelessness through adaptable design and how COVID-19 is shaking things up in the commercial real estate market.
Q: Can you describe your work?
My work focuses on the intersection of resilience, form-finding and evidenced-based design—and how we can use these approaches to create healthy, sustainable and equitable environments that bring joy through beauty.
With so many people experiencing displacement due to poverty, wildfires and political conflict, I am currently putting these concepts to work with a group of global colleagues. Together, we're exploring how to design shelter systems that people can build themselves using locally available materials, which can then transition into permanent communities. The big idea is that by giving people ways to build their homes and community spaces, we can empower them to have more agency over their lives.
With Oregon State University Professor Mariapaola Riggio, we taught UO Architecture, OSU Wood Science and Civil Engineering students how to partner in addressing this issue in the Timber Tectonics in the Digital Age studio.
Q: Why is sustainability central to your career?
The future of our planet rests in what we can do over the next few years to reduce global warming.
Buildings are a huge contributor to energy consumption, accounting for about 40% of all U.S. energy consumption. We can reduce consumption by doing things like simply orienting buildings in the right direction to increase solar heat and shading. Stretching our precious resources and making the spaces in which we live, work and play more comfortable is a huge win for everyone.
To me, architecture is founded in optimism—the optimism that can make the world a better place. Architecture requires you to look at a chaotic situation and envision something beautiful and orderly. Our future depends on these students, and it's essential they listen to community stakeholders, synthesize their needs and aspirations into creative solutions and push to make them happen. In my role as an educator, I make sure my students are equipped with tools and approaches to make dreams for a sustainable world become reality.
Q: What are the biggest challenges you've faced in advancing sustainability efforts in your field?
Our systems are optimized to value profit rather than people. Our capitalist system rewards selfish short-term behavior and discourages community collaboration and the consideration of hidden long-term costs. This behavior is prevalent everywhere we look; from investment in automobiles and highways rather than public transportation to companies maximizing profit by using plastic soft drink bottles rather than reusable glass bottles. While there's plenty of work to be done, we are lucky to live in Oregon, which has progressive land-use laws and prioritizes recycling and composting.
Creative partnerships between professors and industry professionals can be fruitful in overcoming limitations, and I hope we see more of that in the future as we have amazing allies and alumni. Through these partnerships we can also bridge the cultural gap between academia and practice.
Q: What changes have you seen, or do you expect to see, in your industry as a result of the COVID-19 pandemic?
With so many of us working from home, there is an immense need for us to reimagine new lifestyles—new ways of working, learning and playing. We need to ask, "How we can retain the best and ditch the worst aspects?" We can re-imagine how we share space, enforcing fewer vehicles so we can safely thrive in our cities. Commercial office buildings can be re-purposed and adapted to provide crucially needed housing and space for community activities. I have learned a lot about how technologies will be changing our cities from my colleague Nico Larco's Urbanism Next research. Moving forward, I expect that people will place greater value on environmental quality, access to views and indoor-outdoor connections.
This year, our department has benefitted from many global experts contributing generously to our classes. Colleagues around the world have shared architectural lectures, discussions and online teaching tips. As the pandemic's grip loosens, we need to sustain these global networks and support more cultural exchange.
Q: What excites you most about the future of your work?
I love having opportunities to work with a wide variety of people and learn new things. Design and education are about discovery! From evolving technologies to new partnerships, there's always something new and exciting on the horizon. And teaching about what I love is fun—students bring fresh perspectives and often develop in unforeseen ways. In a blink of an eye, they have graduated and are out there making things happen!
After the big wake-up call around racial justice, I am excited to see universities making deeper commitments to social equity through programs like the UO Design for Spatial Justice Initiative, which supports visiting faculty in approaching design through a community-engaged social justice lens.
Q: What is your advice to women entering your field?
There are no limits on what you can do! Crafting a healthy, sustainable and equitable built environment takes many kinds of personalities and talents, so there is a niche somewhere for you. Flooded by incessant media images, it's easy for women to worry about external judgment and develop limiting beliefs. That's why it's so important to listen to your own heart—figure out what really matters to yourself and what brings you joy. Think about what you find fun and interesting and plan a way to make room for that in your career.