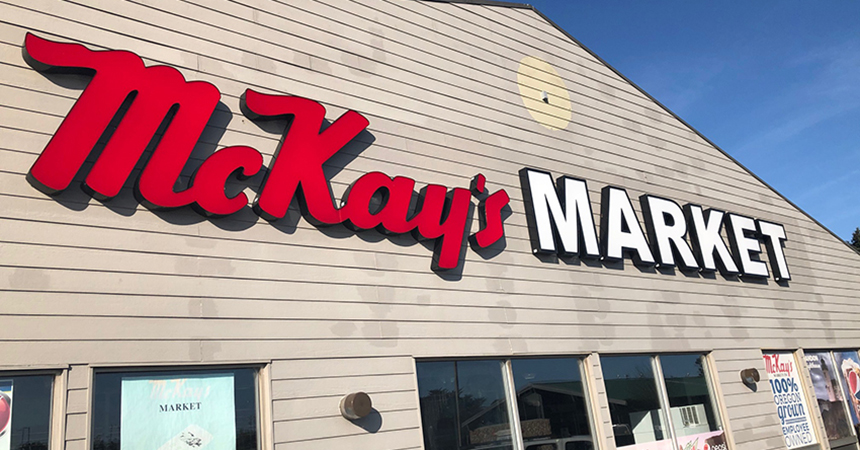 McKay's Market began as a family business in 1947 and, over the years, grew to be a well-known grocery chain—thanks in part to the hard work of the employees. The original owner, Chuck McKay, appreciated their contributions so much that the business eventually became employee owned. So, when the time came for thinking about energy efficiency upgrades, the entire McKay's "family" was part of the decision.
One of those family members is current president Bill Caldwell, a third-generation employee who grew up in the business. "We wanted to lower energy costs, and make McKay's stores more attractive to customers and set ourselves apart from competitors," said Bill. "That's why we contacted Energy Trust of Oregon."
McKay's nine stores are located across eight cities. Installing LEDs in the refrigerated cases at one of their Coos Bay markets was the first upgrade project. "The new case lighting had an immediate impact on savings and customer interest. We immediately saw the return on investment and it was full speed ahead on upgrades after that," said Bill. "We started with that and just kept on going."
Energy savings from the refrigerated case upgrades prompted McKay's to make improvements at several other locations. The company made improvements at their second Coos Bay store and their Myrtle Point and Lincoln City locations, including anti-sweat heater controls, cooler doors, dishwashers, and electronically commutated motors for refrigeration systems.
"There was such a positive response from our customers, and you could feel the tremendous pride from our employees," said Bill. "It's been a win with our employees, a win with our customers and a win with energy savings."
Cash incentives from Energy Trust offset a large portion of the upgrade costs, and the improvements have reduced their energy consumption, helping them save on energy bills. Across four locations, McKay's has received $429,500 in incentives and saved $167,700 on annual utility costs, which the company has reinvested in the business.
McKay's has seen increased traffic and sales at these locations, which they attribute in part to the energy efficiency upgrades. "Customers tell us all the time that these upgrades make our stores look and feel more contemporary and inviting," said Bill.
"If you have any ideas, reach out to Energy Trust to get their expertise," said Bill. "I can only hope our success encourages other businesses to take the leap of faith."
Find out more about grocery incentives and how they can help your business at https://www.energytrust.org/BringUsIn.