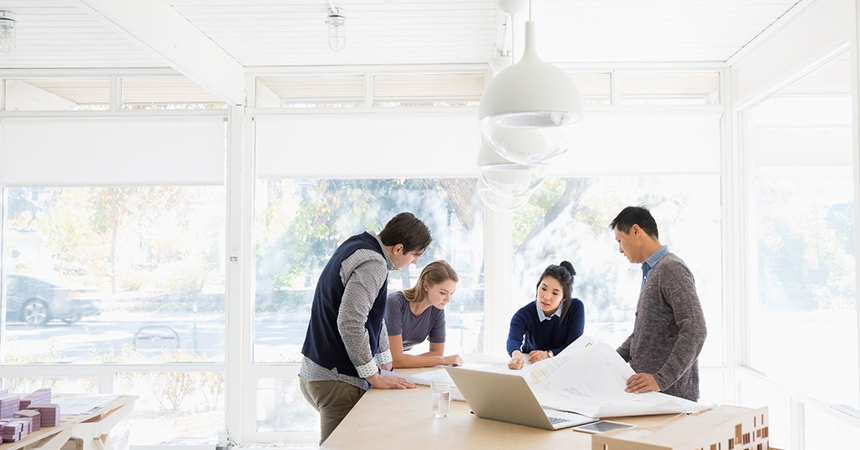 Applications are currently open for the 2021 Net Zero Emerging Leaders internship grant, offered by Energy Trust of Oregon to local architecture and engineering firms. The 12-week internship, which benefits future leaders of the design community, is focused on each firm's AIA 2030 Commitment to achieve net-zero-energy buildings by 2030.
Architecture and engineering student interns from the recently completed 2020 program highlighted their experiences during the 2020 Net Zero Emerging Leaders panel presentation. Discussion topics included learning integrated design processes, AIA 2030 DDx reporting and how their work supports each firm's AIA 2030 Commitment.
Mentors from each firm had encouraging things to say about the program and the students.
"Receiving the Net Zero Emerging Leaders internship grant positively affected our firm by bringing sustainable design processes and data into the spotlight," said Lauren Zimmermann and Emily Jones, from Ankrom Moisan Architecture. "Our intern's work was very helpful not only for completing our 2030 reporting for the year, but for practicing thought leadership, too."
Along with preparing students for future careers, the grant also affects the architecture and engineering communities—interns help their firms support net-zero growth in Oregon now and for years to come.
"Working with our intern was the perfect opportunity to intentionally develop our sustainable design methodology while creatively cross pollinating with the Portland architecture community," said Matt Bokar from Salazar Architects. "Energy Trust's team provided the right balance of structure and freedom, helping us to organically custom-tailor an approach that addressed our immediate needs while creating a roadmap for strategic future growth."
Energy Trust is looking forward to the next round of future leaders to help promote net-zero-energy buildings. To learn more about the upcoming 2021 Net Zero Emerging Leaders Internship, including how your firm can apply for the grant, visit the Net Zero Grants webpage.