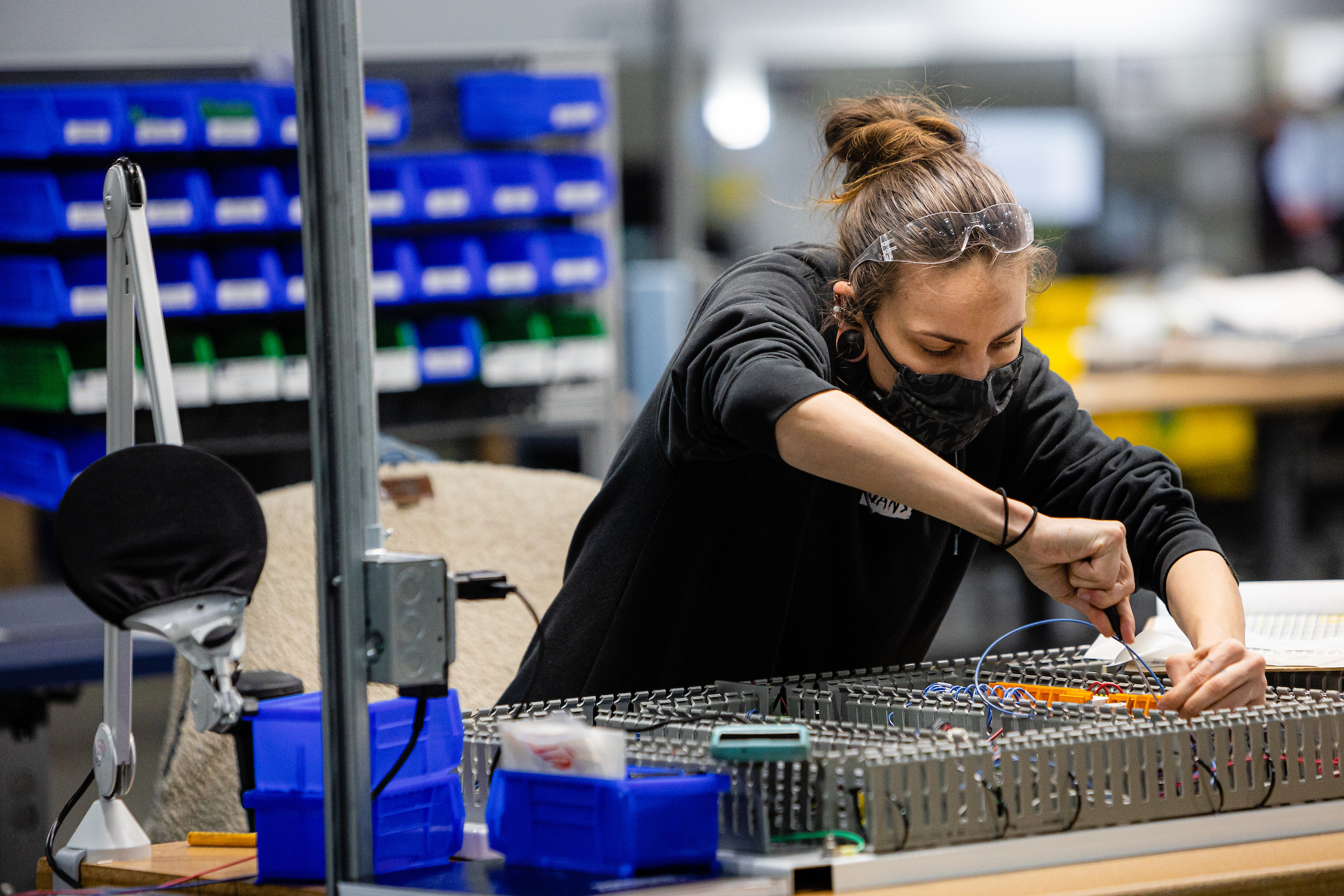 Energy Storage Systems (ESS) has come a long way since 2011. Back then, co-founders Craig Evans and Julia Song had just launched the startup after putting their chemistry and engineering expertise to work on fuel cell power for several large companies. In true bootstrap fashion, the married couple was working in their garage to develop an iron-based battery that could be used to store renewable energy for the long term.
"Julia and I did some of the initial experiments in the garage until the DEA started investigating why we were getting so many chemicals shipped to our house," Evans recalled. "At that point, we needed to get a legitimate lab."
Their first move was to Portland State University, as part of its business accelerator program. Today, the grid-scale battery maker occupies 200,000 square feet in Wilsonville, in what used to be a Tektronix plant. But Evans said ESS will soon need to expand again. They're adding staff quickly, growing from 50 employees in 2019 to possibly 300 by the end of 2022.
What's behind their exponential growth? "The demand for energy storage is very, very strong," Evans said. "We started to see renewables really take off in 2017, because of their ability to drive down cost. In 2019 and 2020, it kicked off at a whole new level. For us, it's now a story of scaling the organization to be able to meet the demand."
ESS's technology uses iron, salt and water to store clean energy when the sun isn't shining and the wind isn't blowing. Compared to lithium ion batteries, ESS's approach relies on resources that are inexpensive, plentiful, nonflammable and nontoxic.
"If you're trying to decarbonize and putting a lot of renewable and sustainable products on the ground, such as solar and wind, you want to use an energy storage technology that's also sustainable," Evans said. "The way we developed the ESS technology, and the chemistry we used, fits that mark."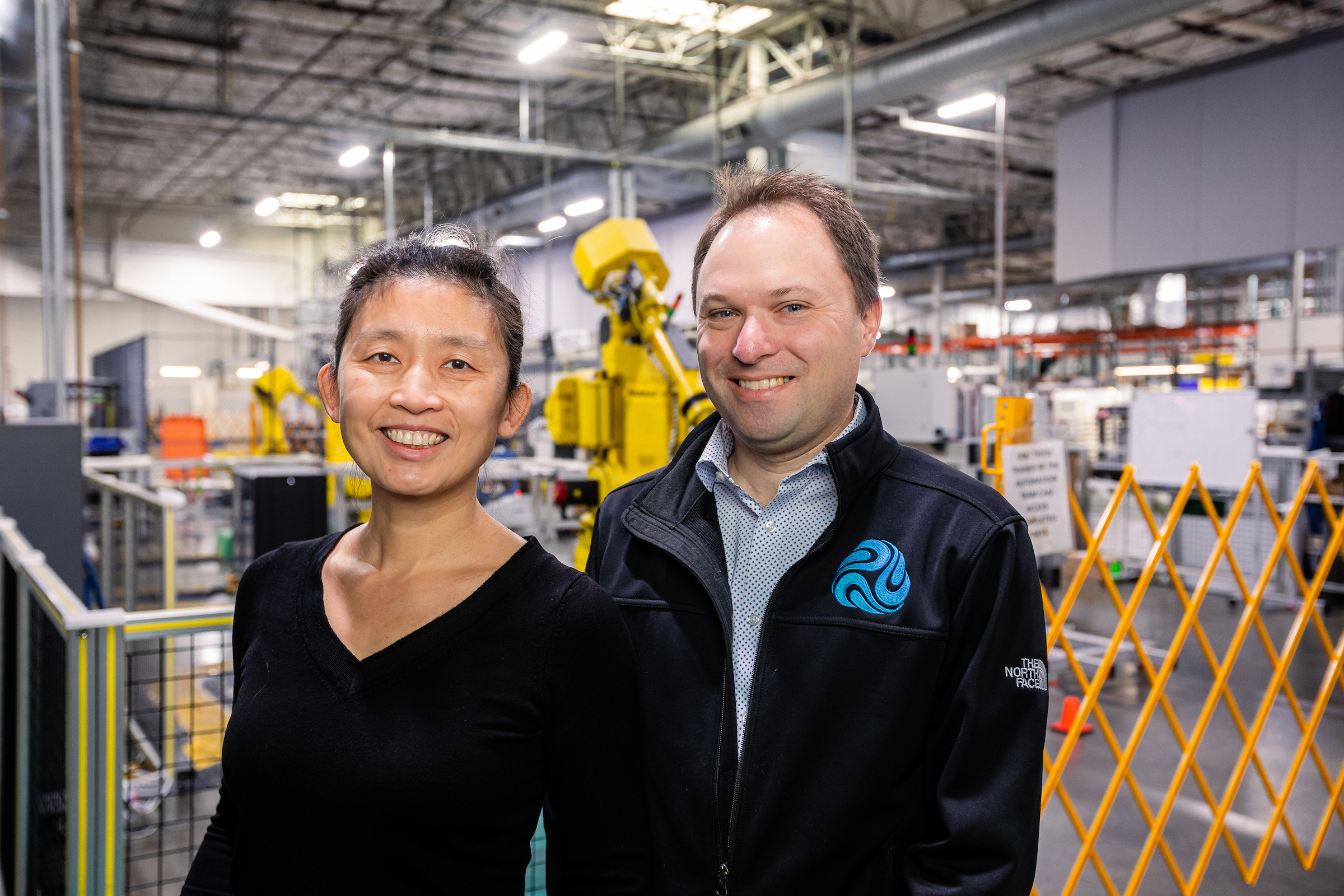 ESS Chief Technology Officer Julia Song and President Craig Evans have come a long way since they started the company out of their garage.
ESS's products are a far cry from your average AA or AAA battery. The batteries ESS developed can store enough energy to power about 34 houses for 12 hours and are designed to last 25 years.
The smaller one, called the Energy Warehouse, fills a shipping container. The larger version, the Energy Center, can easily take up an acre.
"Think of the Energy Warehouse as a battery in a box," Evans said. "The Energy Center is more like a battery in a building. It's megawatt scale and really focused on firming up renewables. It's used for power resiliency."
The battery components also are easy to source around the globe, making ESS's technology attractive as companies grapple with supply-chain squeezes. Buyers include manufacturing companies and utilities as close by as California and Oregon and as far-flung as Germany, Spain and Chile.
As ESS expands, it's finding ways to meet its sustainability goals and keep costs low by taking advantage of programs Energy Trust of Oregon offers commercial and industrial businesses.
When the company moved to its current location in 2017, the plant had been unoccupied for several years. "For us it was a no-brainer," Evans said of partnering with Energy Trust on its renovations. "The facility was old, and we could immediately make a difference with energy-efficiency upgrades."
ESS replaced the lighting systems, some of which dated back to the early 1980s, with energy-efficient LEDs. The company qualified for $56,000 in cash incentives, covering more than one-third of the project's cost. When they upgraded to an energy-efficient air compressor in 2021, the company also received a rebate of nearly $16,000, roughly two-thirds of the project cost.
The air compressor runs ESS's automation line. Imagine a series of robots similar to the ones in an auto manufacturing plant — but assembling battery modules instead of car components. The more quickly and safely the robots can put together the modules, the faster ESS can scale its business.
The old compressor had sat dormant for years, then was running constantly as ESS worked to meet customer demand. Replacing it with an efficient model that powers on and off as needed saves ESS an estimated $5,200 a year on utility bills. It also allows the company to reliably run its automation line and expand its business.
"It goes back to our company goals and metrics," Evans said of the upgrades. "We want to be a sustainable organization, right? So that goes to not wasting electricity. The second thing is that there's certainly a cost savings. As an emerging organization, we want to make sure we're careful about our margins. Lower overhead costs translate to the cost of the product. Any time we can save money on energy, it's good for the customer."
Learn more about energy efficiency for your industrial business with Energy Trust.