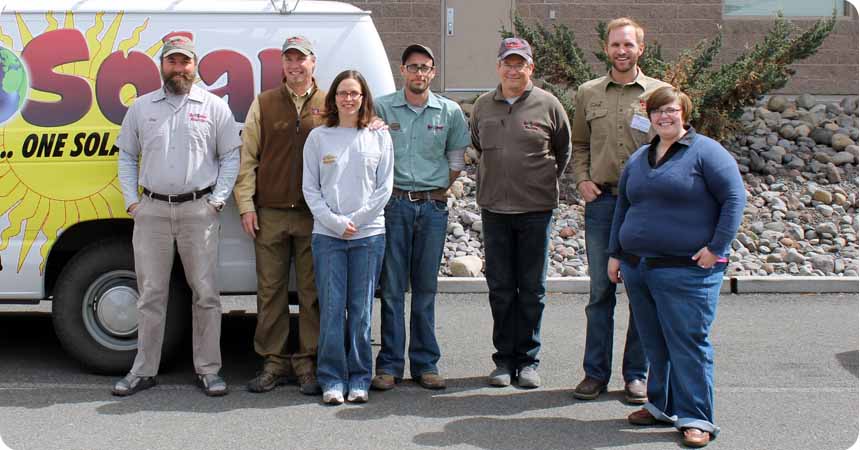 An Energy Trust solar trade ally contractor since they opened in 2007, EcoSolar and Electric installs solar electric systems for residential and commercial customers in Klamath Falls. They make solar electric systems installations more affordable by helping their customers leverage Energy Trust cash incentives and state energy tax credits. The full-service electrical contractor also performs electrical retrofits and commercial lighting upgrades and constructs commercial buildings.
EcoSolar and Electric is currently working with Cascade Organic Beef, a family-owned and operated ranch in Klamath Falls, to install a 97.2-kilowatt solar electric system. The ranch also completed energy-efficiency upgrades, and the solar and energy-efficiency investments combined are expected to reduce the company's annual energy use by a staggering 80 percent. The new solar electric system will supply power for a well pump that irrigates 318 acres of organic pastureland.
Other recent projects for EcoSolar and Electric include solar electric system installations at St. Mary's School in Medford and Southern Oregon University in Ashland. With solar installation projects booked through next spring, the company expects to hire new staff in addition to its current seven employees.
"We are in business to inform and empower our customers to take control of their energy use. We focus on high-caliber customer service and workmanship," said Alison Andrews, co-owner, EcoSolar and Electric. "All of us at EcoSolar and Electric are committed to our customers, each other and the business of solar."