Whether your goal is to save money, improve the comfort of your home or reduce your overall energy use, smart thermostats do it all. And now you can get one for just $25. This offer applies to popular models from Google Nest and ecobee that normally cost $129–$249. Here's a closer look at your options for this special $25 price.
Google Nest Thermostat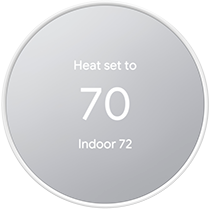 With its round shape and simple design in white, the Google Nest Thermostat can blend right into your home. It's very easy to install and programming is a snap. Simply set up your schedule and your Nest will adjust automatically so you don't waste energy when you're away from home.
The Google Nest Thermostat will also alert you about your heating and cooling system, including when it is time to change your filters.
Like all smart thermostats, the Google Nest Thermostat works with a user-friendly app that lets you control settings from anywhere, whether you're on the go or still in bed at home. This model is also compatible with Google Home, making it a great choice if you already have other Google products in your home or want to enable voice control for your thermostat.
ecobee SmartThermostat with voice control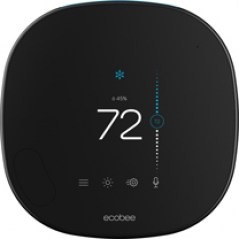 The ecobee SmartThermostat with voice control has similar learning capabilities to the Google Nest, adapting to your routine to keep your heating and cooling system working at its most efficient. This model comes in black and is squared instead of round, offering a different look than other smart thermostats.
It also has voice control with Amazon Alexa built in, which makes it a great option if you have additional products in your home that also use Alexa. Change the temperature, play music, call your family—all with your voice. Its SmartSensor is another unique feature that lets you manage hot and cold spots and adjust the temperature of a specific room based on occupancy.
With the ecobee app, you can pre-heat or cool your home if arriving earlier than expected, and adjust settings remotely to save energy while away or on vacation.
Ready to enjoy all the benefits of a smarter thermostat? Order your Google Nest or ecobee for just $25 and have it shipped straight to your door.