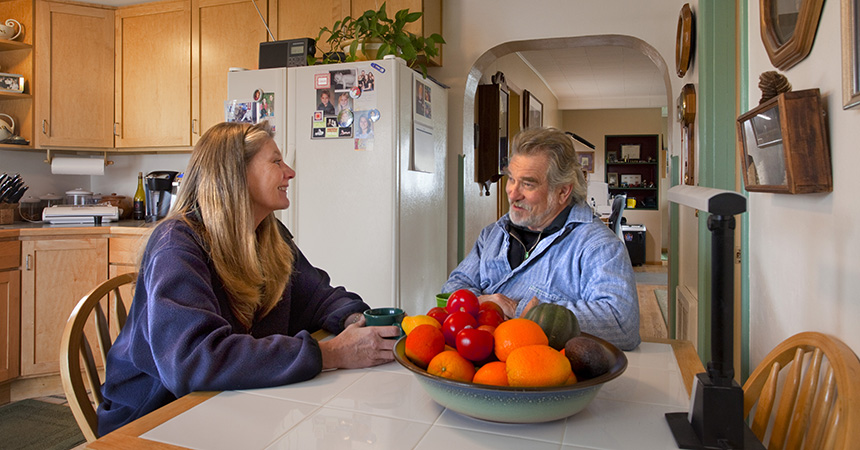 The cost of running an inefficient fridge adds up, but figuring out how to replace it can be daunting. Save on utility bills by upgrading to an energy-efficient model, and learn why and how to recycle your old refrigerator responsibly.
Operating costs
How old is your refrigerator? If it was manufactured before 1993, your fridge consumes two to three times more electricity than newer models. Upgrading to a newer, energy-efficient and well-insulated model can save hundreds of dollars on your utility bills over time. Use the ENERGY STAR® Flip Your Fridge Calculator to learn how much you could save.
Health and safety
Fridges and other large appliances can contain refrigerants, mercury, oils and other hazardous chemicals. These materials are toxic when released into the atmosphere, and some are known carcinogens. Used refrigerators should always be dismantled by professionals.
Impact
Refrigerators manufactured before 1993 contain chlorofluorocarbon (CFC) refrigerant, which is both an ozone-depleting substance and a greenhouse gas. As an alternative to CFC, the hydrofluorocarbon (HFC) used in newer models does not destroy the ozone layer—but it is one of the most potent greenhouse gases.
Recycling your fridge responsibly prevents the release of hazardous chemicals. To help protect the health of your family and community, the U.S. Environmental Protection Agency (EPA) requires refrigerants and other hazardous materials to be recovered from used appliances. When dismantled responsibly, the CFCs or HFCs recovered from your fridge are destroyed or transformed into non-hazardous chemicals.
Older fridges can also contain over 100 pounds of recyclable steel. When the copper and steel in refrigerators are recycled and reused, the environmental impact associated with producing new copper and steel from raw materials is reduced.
Recycling resources
Although Energy Trust of Oregon no longer offers an appliance recycling service, we still recommend recycling responsibly. If you have an old fridge or freezer you need to replace, Energy Trust suggests contacting one of the resources below to arrange for appliance recycling.
In Oregon, it's illegal to send large appliances to a landfill. Contact your local garbage collection service to arrange a separate pick up or drop off. A fee may be charged for this service. If you can't find information for your area, contact the Oregon Department of Environmental Quality.
Local recyclers and scrap metal facilities may also provide this service. If you live in the Portland area, Metro lists facilities by zip code that recycle coolant-containing appliances.
When buying a new refrigerator, some retailers offer to haul away the appliance you're replacing. In Oregon and Washington, Sears has partnered with the EPA's Responsible Appliance Disposal Program to properly manage the large appliances they pick up and recover hazardous materials from the waste stream. Sears charges $25 to haul away and recycle the appliance you're replacing.
Ready to upgrade?
Major home appliances come with two price tags: the purchase cost and the monthly utility costs. High-efficiency products can do more than just reduce your monthly bills—they run more quietly and provide you with the superior performance you expect.
Energy Trust doesn't offer incentives for new refrigerators or freezers, but encourages you to purchase ENERGY STAR certified appliances to save the most on energy costs. When shopping for a new ENERGY STAR refrigerator or freezer, follow these tips to find the right refrigerator or freezer for your home:
Check the yellow EnergyGuide label to see how much energy is used to operate the model, and compare the energy use of similar models.
Purchase the right sized refrigerator or freezer for your household needs. The larger the refrigerator or freezer model, the greater the energy consumption. The most energy-efficient refrigerator models are typically 16-20 cubic feet. The most energy-efficient freezer models are typically chest freezers.
New ENERGY STAR refrigerators come in a variety of styles to meet your household needs and match your kitchen décor—from side-by-side and French door to bottom freezer and four-door options.